Should Troubles generation of NI politicians move aside?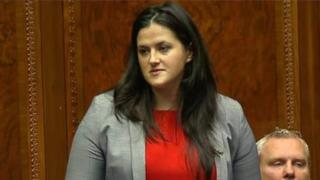 In mid September, when the future of Stormont was looking bleak, the 29-year-old independent unionist MLA Claire Sugden made an impassioned speech.
"This house of cards is falling, and good will come of that only if the jokers at the top come crashing down too and do not get up again," she declared.
The East Londonderry MLA went on to demand a generational change in politics, declaring her belief that "Northern Ireland will only truly move on when the people who were involved in the Troubles are no longer in politics".
She called for the Troubles generation to step aside "and encourage young politicians like Gary Middleton, Steven Agnew, Chris Lyttle, Claire Hanna, Megan Fearon, Sandra Overend and me to be the future of Northern Ireland and these institutions".
By picking MLAs from the DUP, the Greens, Alliance, the SDLP, Sinn Féin and the Ulster Unionists, Ms Sugden diplomatically avoided appearing to push one party agenda as opposed to another.
Read full article Should Troubles generation of NI politicians move aside?