Brexit: Concern over possible consequences for the Irish border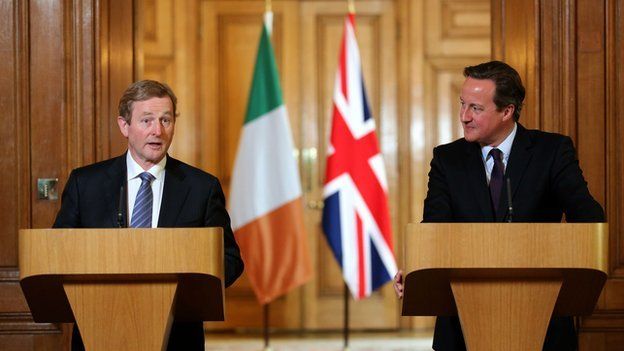 Covering the talks between David Cameron and Enda Kenny in Downing Street last week, it was obvious that Irish concerns about any potential British withdrawal from the European Union occupied more of the two prime ministers' time than their discussion of what might happen next in Stormont's budgetary saga.
Taoiseach (Irish Prime Minister) Enda Kenny's language sounded more diplomatic than that of former Taoiseach Bertie Ahern. Mr Ahern told the BBC any British exit from the EU would be "senseless" and set Northern Ireland back "light years". But given the close trading, social and cultural relations between Britain and Ireland, it is obvious any taoiseach will be worried about what would be a far reaching change to the status quo.
'Special position'
This week, a report from an Irish parliamentary committee spelled out Dublin's concerns in more detail. The Oireachtas (Irish Parliament) Joint Committee on European Union Affairs wants the Irish government to be "involved from the outset in all negotiations on the UK relationship with the EU, as UK's membership of the EU is an issue of vital national interest to Ireland".
When it comes to Northern Ireland the committee argues that - in the context of the Good Friday Agreement - "the Irish Government has a voice in relation to the future of Northern Ireland and must feature in EU negotiations with the UK".
In the event of a British withdrawal from the EU, the committee wants London and Dublin to make arrangements to replace any lost EU funding.
Read full article Brexit: Concern over possible consequences for the Irish border