Mike Nesbitt: UUP leader proves he still has an eye for a headline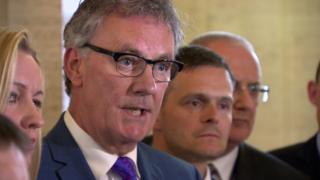 As a former TV presenter, Mike Nesbitt has a penchant for grabbing a headline.
Last summer, he pulled out of the Stormont Executive when Peter Robinson was away, initially wrong footing the DUP as it tried to respond to allegations that Provisional IRA members were involved in the murder of former IRA man Kevin McGuigan.
When Peter Robinson returned, he had to engage in some unpopular tactics, such as the DUP's rolling ministerial resignations, to buy time for Stormont.
However, his successor Arlene Foster reaped the dividend in the assembly election, by maintaining her party's dominance.
The DUP has more than a two to one advantage over the Ulster Unionists.
Read full article Mike Nesbitt: UUP leader proves he still has an eye for a headline