Brexit paper: No Irish border tariffs for small firms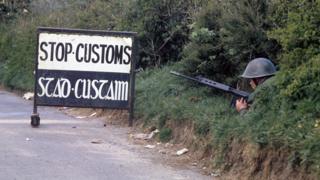 If the vote for Brexit represented UK voters symbolically pulling up the drawbridge to Europe, then the 310-mile land border which divides Ireland always represented a headache.
It has hundreds of crossing points and the removal of the fortified border checkpoints which used to monitor north south traffic is seen as one of the lasting achievements of the peace process.
Re-creating "unapproved crossings" or putting those physical posts back to police a new customs regime would be a security nightmare, providing a focal point for dissident republicans intent on reviving the "Troubles".
So it was no surprise that the latest UK paper made good on previous pledges of "no return to the borders of the past" by promising there should be no physical infrastructure installed on the border.
What was surprising is that rather than installing unobtrusive CCTV cameras set back from the border, the UK wants to a large extent to have no customs border at all.
Read full article Brexit paper: No Irish border tariffs for small firms