Did state agents nudge the IRA towards peace?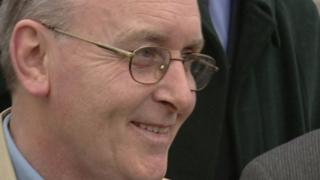 Gerry Adams has denied any involvement in sanctioning Denis Donaldson's murder.
Martin McGuinness says the claims made by an alleged agent inside the IRA on this week's Spotlight programme were "about as credible as Walter Mitty".
By contrast the Ulster Unionist Party urges the Sinn Féin President to take legal action against the BBC and if not to explain why not.
The TUV is urging the Gardaí (Irish police) to interview Mr Adams about the murder of Mr Donaldson just over ten years ago.
Aside from the claims around the Donaldson murder, the most interesting aspect of the Spotlight report was the argument that "agents of influence" were so pernicious within the republican movement that they could be credited with playing a major role in nudging Sinn Féin and the IRA along the path of ceasefires and political deals.
'The intelligence war'
Read full article Did state agents nudge the IRA towards peace?