Varadkar faces heat over constitution comments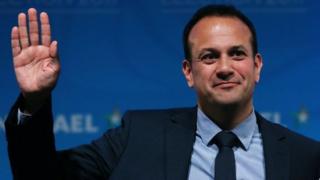 Taoiseach Leo Varadkar's view, expressed to the BBC Spotlight programme, that he "wouldn't like us to get to the point whereby we are changing the constitutional position here in Northern Ireland on a 50% plus one basis" has caused a backlash from northern nationalists.
Sinn Fein's senior negotiator Conor Murphy has insisted that the 1998 Good Friday Agreement is "absolutely clear" that "if a simple majority vote in favour of reunification, both governments are then obliged to legislate for it".
Mr Murphy has argued that there's "an onus on the Irish government to plan for unity, to become a persuader for unity, to build the maximum agreement and to secure and win a referendum on unity.
"As a co-guarantor of the Good Friday Agreement", the Sinn Fein politician continued, "the taoiseach should be seeking to defend the agreement in all its parts, not seeking to undermine it."
The former SDLP leader and deputy first minister Mark Durkan, who was a key negotiator on the agreement nearly two decades ago, has been equally exercised.
Read full article Varadkar faces heat over constitution comments