Claire Sugden says risks of taking the justice role are 'life-changing'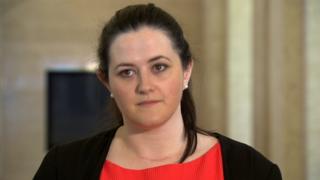 Until the Assembly broke for the election campaign, Claire Sugden was an occupant of what used to be called the "naughty corner".
She inherited the East Londonderry seat from David McClarty after his untimely death from cancer, following in his footsteps as a liberal unionist working hard on the bread and butter concerns of her constituents.
She was perhaps best known for a speech during last year's Stormont crisis, in which she pronounced that the House of Cards was falling down and hoped the "jokers at the top" would never get back up.
'Inevitable risks'
Having secured a seat via the assembly's co-option system, some whispered that Ms Sugden wouldn't survive her first election. But she proved the doubters wrong, getting 3.270 first preference votes and ensuring the Ulster Unionist party didn't make a comeback.
It might have been assumed that she would dedicate herself to consolidating her position as a grassroots politician, and when the Ulster Unionists announced they were going into opposition, she spoke approvingly of the move.
Read full article Claire Sugden says risks of taking the justice role are 'life-changing'