Walking with Martin McGuinness and Buttons the dog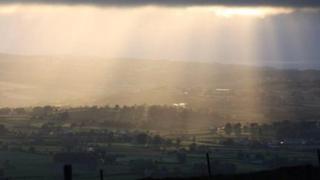 Buffeted by a freezing wind on a chilly afternoon last April, I accompanied Martin McGuinness and his dog for a stroll around an ancient Irish hill fort just across the border on the Inishowen peninsula in Donegal.
Grianan of Aileach was a special place for the deputy first minister, perhaps because it reminded him of Ireland's ancient history, but also because it afforded panoramic views across the counties of Donegal, Derry and Tyrone.
He could look down on the green fields and the waters where he spent hours fishing for sea trout.
"I am as fit as a fiddle," he assured me as I questioned him over whether he would serve a full term, pointing out that he would be 70 by the time the forthcoming Stormont term was due to end.
He joked that when we had walked up to the summit together he had been in perfect shape, whereas I had been absolutely exhausted.
Read full article Walking with Martin McGuinness and Buttons the dog