Irish Language issue still has (crocodile) teeth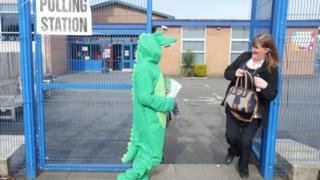 If labelling Sinn Féin as "crocodiles" was the Arlene Foster phrase that stuck at the start of the spring assembly election campaign, then the DUP leader was determined not to make the same mistake again at the outset of the Westminster battle.
The ad lib "crocodile" comment emerged during answers to the press, so the DUP's Gavin Robinson was only half joking when he advised party activists that the longer they cheered the better, as it would cut down the time for those pesky enquiries from reporters.
Mrs Foster originally made her "crocodile" quip after vowing there would not be an Irish Language Act under her watch.
On Inside Politics last week, I questioned her several times about whether this remained her position - she did not repeat the formula, instead insisting that few people other than political activists had told her they wanted such an Act.
Questioned by the Newsletter's Sam McBride, the DUP leader clarified she had ruled out an Irish Language Act "in the context of nothing else happening in terms of culture and language".
Read full article Irish Language issue still has (crocodile) teeth