DUP-Tory deal: 'Not a penny' without NI devolution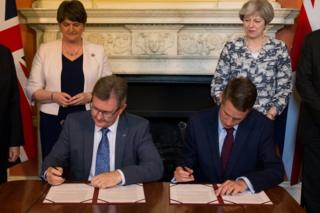 "Not a penny" of the £1bn negotiated as part of the DUP-Tory deal will be released unless Stormont is restored, a Civil Service source has told the BBC.
The £1bn in extra public spending for Northern Ireland was agreed in June, in exchange for the DUP's support for the minority Conservative government.
A Stormont Civil Service source claimed the Treasury made clear the money would not be released without devolution.
But the DUP said the cash does not depend on local government at Stormont.
After the general election in June, the DUP signed a confidence and supply deal with the Tories which was accompanied by an extra £1bn in public spending for Northern Ireland.
Read full article DUP-Tory deal: 'Not a penny' without NI devolution