Comments come back to embarrass politicians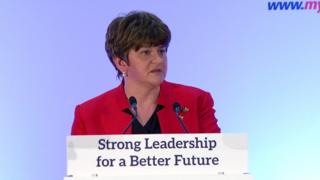 In politics, as in life, it's easy to be abrasive about someone far away, but rather more difficult to be rude to someone sitting right beside you.
So if you are planning to launch a broadside, it's often convenient to pick a distant target.
On Friday, Deputy First Minister Martin McGuinness complained about the prime minister's absence from a British-Irish summit safe in the knowledge that Theresa May wasn't about to walk in the door.
Similarly, back in October, First Minister Arlene Foster used her speech to the DUP conference to concentrate her fire on the Irish government, knowing Taoiseach Enda Kenny was unlikely to appear at the back of the hall.
She said political instability in Dublin was driving Mr Kenny's response to Brexit, adding that while the Irish government "seek to take the views of people of Northern Ireland on the issue of Brexit at home, their representatives are sent out around the world to talk down our economy and to attempt to poach our investors".
Read full article Comments come back to embarrass politicians