Border friction as UK/Irish joint approach unravels?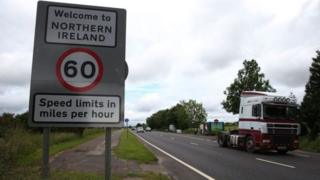 For months, it's been the joint mantra from both Dublin and London - that after Brexit, the border between Northern Ireland and the Republic of Ireland should be as "seamless and frictionless as possible".
That phrase hinted both at an ideal flexible arrangement in the future and an ideal shared approach from both the UK and Irish governments, together stressing to the EU the paramount importance of doing nothing that might constitute any kind of risk to the political progress made over recent decades.
But is that seamless approach unravelling and could Brexit become a source of greater friction between the two governments?
Both the Brexit Secretary David Davis and DUP leader Arlene Foster have been fond of talking about technology as the answer to Ireland's post-Brexit problems.
Yes, they acknowledge, putting old-style customs checkpoints right on the border would be unacceptable for both political and security reasons.
Read full article Border friction as UK/Irish joint approach unravels?