Will ban on legal highs work?
26 May 2016

From the section

UK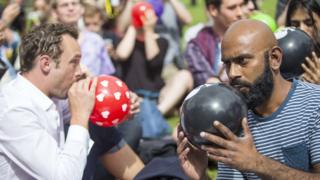 Conservatives are usually opposed to the "nanny state" slapping draconian new rules on business or banning things that experts think might damage your health.
But today the government's delayed Psychoactive Substances Act comes into force, introducing powers over what consumers can consume that are as radical and far-reaching as any such legislation ever.
The intention is to solve the UK's problems with "legal highs" - chemical products not covered by existing legislation that are causing some health and social problems.
Legal highs have been implicated in 76 deaths in the last 10 years (31 where they have been the sole cause), the Office for National Statistics said last month.
However, that compares to 7,748 deaths involving illegal drugs, which has led some to question whether the government is using a sledgehammer to crack a nut.