Drenched Thailand still waiting for its green revolution
10 January 2017

From the section

Asia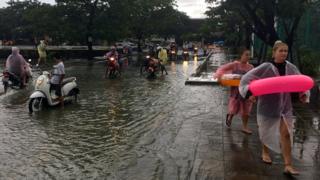 Mr Supit bows low, palms together, fingers pointing to the wrathful heavens above.
The north-east monsoon should have left the Thai island of Koh Samui more than a month ago, but the start of 2017 there has been greeted by a week of unremitting tropical storms.
Supposedly the high season, Mr Supit's hotel is dripping with umbrellas and soaking towels. The rains have prevented many staff from getting to work, made his international guests miserable and washed away his organic garden.
He breaks his wai - the traditional palms together gesture of greeting - throwing his arms apart with a shrug and a shake of his head. "What more can I do?" he asks.
"We are going to cross the sea in front of us," he jokes as he attempts to drive down Main Street, floodwater sloshing up to the gunwales of his Ford.
Read full article Drenched Thailand still waiting for its green revolution