Why some fear a shortage of immigrants
23 February 2017

From the section

UK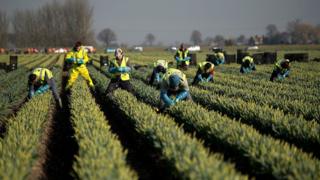 Britain's anxiety about immigration has long been that there is far too much of it. Concerns about the record number of foreign arrivals were a key factor in the vote for Brexit, and the national debate in Parliament and the press has tended to focus on who has got the best policies to reduce it as quickly as possible.
So one would think statistics suggesting a fall in net migration and a big drop on EU workers coming from the eight so-called accession countries (A8) like Poland would be a cause for rejoicing. Well, not entirely.
Nothing has changed at the UK Border since the Brexit vote - this isn't about Britain "taking control".
What has happened is that more than 100,000 EU citizens have left Britain - 17% more than in the previous year. And arrivals from the A8 countries have fallen sharply.
The number of new registered workers from Poland is down 16% year on year, Hungary is down 14%, Slovakia down 20% and Lithuania down 6%.