Has the government abandoned its net migration target?
19 April 2016

From the section

UK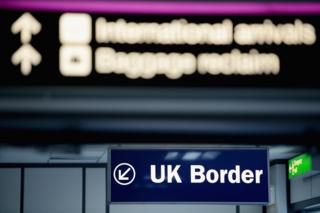 The Conservative manifesto promises to reduce net migration to the UK to the tens of thousands by 2020, but in calculating the cost of Britain leaving the EU in yesterday's report, the Treasury assumes a level still well in excess of that - of 185,000 per year in 2021 and beyond.
Asked to explain whether the government has quietly abandoned its pledge, the Treasury said the UK would probably have to accept the status quo on EU migration as the price of continued access to European markets. "No country has been able to agree significant access to the single market without having to accept EU regulations, financial contributions to the EU and the free movement of people" it said.
Critics have suggested the Treasury's "Brexit" calculation demonstrates that the department has no real ambition to see radical reductions in net migration. In the year to September 2014, net migration to the UK was 323,000, according to the Office for National Statistics.
Last month the Office for Budget Responsibility (OBR) said that "net international migration to the UK is an important driver of the economy's underlying growth potential" and leads to a higher employment rate and lower dependency ratio (the number of children and elderly compared to the total population).
The OBR's central budget projection assumes net migration of 185,000 by 2021 (they clearly think it unlikely the government will be able to get net migration down to the levels they promised), and it is this modelling that was included in the Treasury report on the costs of leaving the EU.
Read full article Has the government abandoned its net migration target?