Where is the inspiration in this election?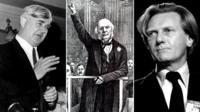 Inside the vast space of the Al Masjid ul Husseini mosque, in Northolt, north west London, pathways and rooms are being created at bewildering speed as barriers are shifted and rearranged, passed overhead in a happy chaos.
Men in pristine, white dishdashas and neat embroidered caps race from one place to another, watched by women in long dresses of many colours, decorated with flowers and intricate designs.
"It is the happiest day of the year," one woman tells me, smiling broadly.
The spiritual leader of the Dawoodi Bohra Shia sect is on a rare visit from India.
Infectious, joyous excitement crackles through the air. I had come looking for passion and big ideas - and I have found them.
Read full article Where is the inspiration in this election?