Germany's big businesses' Brexit worries
24 July 2017

From the section

Europe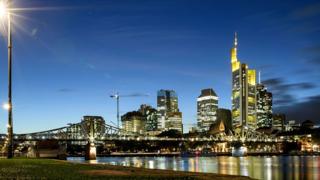 It must be serious. They've deployed the Royals.
The Duke and Duchess of Cambridge have been on tour in Germany with a very specific purpose: to reassure the country that Brexit doesn't mean the break-up of a beautiful relationship.
Prince William, after speaking a few words in German, told guests at a British embassy garden party: "This relationship between UK and Germany really matters, it will continue despite Britain's recent decision to leave the European Union. I am confident we will remain the firmest of friends."
But since the British election, German politicians are more troubled than ever about Brexit. The German council for foreign relations' director, Daniela Schwarzer, told me: "Policymakers in Berlin are surprised and worried at the degree of confusion in London, the lack of clarity as to the strategy the UK wants to follow.
"There is a lot surprise about how the negotiations are being handled and the somewhat incoherent messages which come out of London."