Brexit: The story of an island apart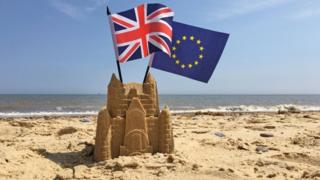 Our little archipelago of isles on the outer edges of a huge land mass has often thought of itself as rather special, even before it was the centre of an empire that changed the world.
As so often, Shakespeare put it best: "This precious stone set in the silver sea/ Which serves it in the office of a wall/ Or as a moat defensive to a house,/ Against the envy of less happier lands,/ This blessed plot, this earth, this realm, this England."
It is that silver sea that helps define our relationship with the rest of Europe.
These isles have very rarely been in isolation from it, whether splendid or otherwise. How could it be, as one historian recently argued, when the Magna Carta was signed by French nobles and the Bill of Rights designed for a Dutch prince?
But it has always kept a beady eye on other powers across the water.