Donald Trump: The view from Detroit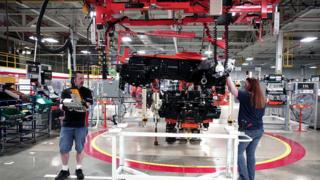 Can Donald Trump make America not just great again, but make it gleam and bring the shine of steel back to the rustbelt?
In the past I have driven through some of the areas so described and its no idle metaphor. There are mile upon mile of oxidised, red metal skeletons, dead factories entombing dead jobs, dead hopes.
But the Interstate 75 road outside Detroit is a reminder that manufacturing industry could just be America's future and not only its past.
Towers and gantries poke up into the skyline, plumes of steam billowing white against a grey sky from dozens of chimneys: little lights, appropriately red and white and blue, blink with brisk industrial efficiency. This is the home of Motown - Motor City - famous for its music and its cars.
Eight years after a heart-stopping crisis for the motor industry Detroit is working again. Some say that is thanks to Obama. Others look to Mr Trump to make it what it once was again.