Lib Dems face difficult election aftermath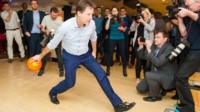 The hustings in Colchester has a comfortably old fashioned feel to it.
It's in a church hall and you can put 50p in a Tupperware box for a cup of tea and a biscuit, then sit on the sort of chairs they always have in church halls and judge how the candidates behind the trestle tables measure up.
The town, the oldest recorded in Britain, is a dot of Lib Dem yellow in a sea of Conservative blue.
The Lib Dems had a majority of just over 6,000 in 2010. The well-liked Lib Dem MP, Sir Bob Russell, has been here since 1997, and was a councillor for 20 years before that - a local fixture.
Before that it was always Conservative, and it is the sort of seat the Conservatives have to win to have a chance of forming a majority government.
Read full article Lib Dems face difficult election aftermath