US election 2016: What next for US foreign policy?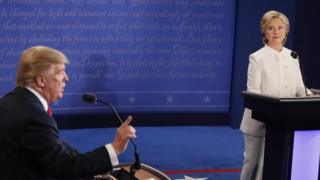 America will likely emerge from the presidential election with a foreign policy that continues the recent trend of avoiding major foreign conflicts in order to focus on domestic issues - something you would hardly guess from the radically different foreign policy platforms of the two presidential candidates.
How so?
In the first place advisers close to both of them tend to emphasise that some of the more controversial policies they have advocated - such as Donald Trump's suggestion he will renegotiate the North America Free Trade Agreement, or Hillary Clinton's that she backed a no-fly zone in Syria - are actually less radical than they appear and would involve "more of the same" rather than dramatic change.
While Republicans lambast President Barack Obama for "abandoning" global leadership, and some suggest Hillary Clinton would be more interventionist, in truth whoever is elected will seek to avoid any repetition of what happened in Iraq and Afghanistan.
These were hugely expensive, enduring military commitments that many Americans feel they can ill afford now.
Read full article US election 2016: What next for US foreign policy?