How many Russians are fighting in Ukraine?
10 March 2015

From the section

Europe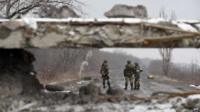 Western arguments about how to counter President Vladimir Putin's support for east Ukraine separatists are leading to clashes over the question of how deeply involved Russia's military is in the conflict.
The latest salvo between Nato allies came in a German government briefing to Spiegel magazine that accuses the alliance's supreme commander (American Gen Philip Breedlove) of disseminating "dangerous propaganda" on the extent of Russian military involvement, trying to undermine a diplomatic solution to the war.
The Kremlin has denied its forces are directly involved in combat, but the latest estimate by US Lt Gen Ben Hodges, commander of the US Army in Europe, says 12,000 Russian troops are operating inside the neighbouring country.
As the conflict there has worn, on this intervention has become increasingly hard to hide, growing bigger, with more advanced weapons, and capturing more territory for the nominal "separatist army".
The evidence of the Kremlin's direct military involvement can be gleaned from many different types of sources:
Read full article How many Russians are fighting in Ukraine?