FOI failings at the heart of government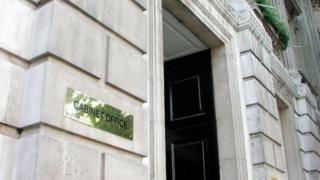 Some major government departments have a record of frequent and persistent delays and unhelpfulness in their handling of Freedom of Information (FOI) requests.
This is clear from a new BBC analysis of decisions issued in the past two years by the Information Commissioner's Office which has repeatedly condemned the Cabinet Office, Home Office and Ministry of Justice for their "poor", "disappointing" and "unacceptable" treatment of FOI applications.
And it raises questions about whether the Information Commissioner, Elizabeth Denham, is taking a tough enough approach to enforcing the law on these important departments at the heart of government, beyond criticising their processes in individual complaints.
Information obtained by the BBC from the Information Commissioner's Office also shows that the Cabinet Office and the Home Office are the two public authorities in the country with the worst record of failure on timely cooperation with the commissioner's investigations.
The Information Commissioner's Office has the legal power to issue "information notices" against public bodies which are failing to provide material needed to assess complaints against them. Since May 2015 it has issued these formal notices in 50 completed cases. Fifteen were against the Cabinet Office and 11 the Home Office. So the two departments accounted for more than half these measures against particularly uncooperative public authorities.
Puzzlement