Trump nominee to rekindle climate battle?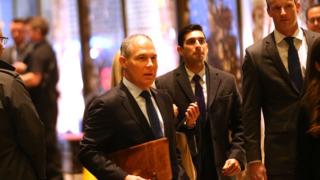 The nomination of Oklahoma attorney general Scott Pruitt to be the next head of the US Environmental Protection Agency (EPA) has two important ramifications.
The first is a clear signal from the incoming Trump administration that environmental regulations, especially as they apply to the production of energy, are set for fundamental reform.
The second implication of Mr Pruitt's nomination is that the Trump camp is not willing to accept that many aspects of the science of climate change are now settled.
Leading the charge
In his official biography Mr Pruitt revels in his role as a "leading advocate against the EPA's activist agenda".
Elected as attorney general of Oklahoma in 2010, Mr Pruitt has engaged in a legal fight with the Federal government on a number of issues including Obamacare. But it is in fighting the EPA and President Obama's climate regulations that he has really made an impact.