The world's not laughing, Donald, it's crying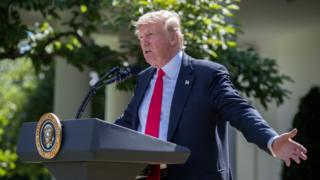 President Trump's statement is a very clear repudiation of the Paris climate agreement and international efforts to fund climate mitigation and adaptation in poorer countries.
In many ways it is far worse than many observers had expected.
The president clearly believes that the accord is a job killer, an economy strangler and a desperately unfair stitch-up by other countries wanting to take economic advantage of the US.
"We don't want other leaders and other countries laughing at us anymore," thundered President Trump, "and they won't be."
He spoke of being open to re-negotiating the deal or trying to build a new agreement - but the idea of re-working the accord is an unlikely scenario.
Read full article The world's not laughing, Donald, it's crying