Don't tell the President: US team lauded at climate talks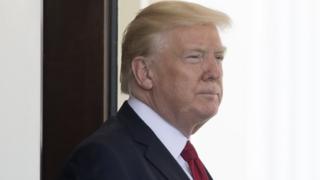 Assailed by "enemies" on all sides, the most "unfairly" treated politician in the history of ever has at least had the consolation of knowing that his emissaries to the latest UN climate talks just finished in Bonn have followed his dictum to the letter. Or have they?
The new White House, in case you missed it, takes a very different view on climate change to a majority of countries in the world.
The Donald Trump-era perspective is that climate change is essentially an exaggerated threat, that coal, oil and gas are tremendous, and that the Paris agreement is a bad deal for America and should be "cancelled".
Given that almost all the small US delegation to Bonn were people who have previously been involved in climate discussions under the Obama administration, it must have been quite the mental u-turn to suddenly have to keep repeating the mantra in discussions here: "Our position is under review."
Driving seat
However, President Trump may be a little distressed to hear that instead of a stony faced resistance to the warmist hordes in Bonn, the US team has actually been seen as playing quite a positive role.
Read full article Don't tell the President: US team lauded at climate talks