First big test for Paris climate deal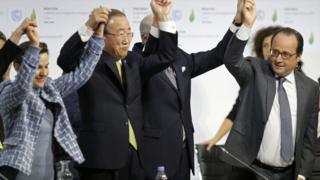 Do you remember the day we saved the world?
When COP President Laurent Fabius smacked down his gavel on December 12, it signalled that agreement had been reached at the UN climate conference in Paris on one of the world's most intractable environmental and economic problems.
After years of onerous, cantankerous and often tedious talks, somehow all 196 participants, like a large collection of cats, had agreed to be herded in the same direction.
They had agreed to keep global temperatures "well below" 2C and "to pursue efforts to limit the temperature increase to 1.5C above pre-industrial levels".
This was a globally significant moment and the celebrations lasted long into the night.