Exxon: An inconvenient truth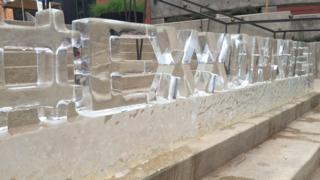 In the hot and humid conditions of downtown Dallas, the #Exxonknew ice sculpture - erected by environmental campaigners to suggest the company had known about the science of climate change but had failed to act - did not last too long.
And the activists were hoping the same thing would happen to Exxon, a company that has fended off efforts to make it toe the line on climate change for a quarter of a century.
The global giant has taken some hefty blows over the past 12 months.
It is struggling to sell oil and gas in a flooded market, profits are the lowest in 13 years, and the company has lost its vaunted AAA investment rating, for the first time since the great depression.
It is also facing investigations by a number of attorneys general.