CITES species meeting: 'The only game in town'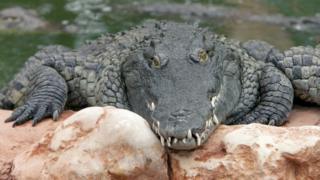 A big hand for the Nile Crocodile, the poster animal for the argument that regulated international trade can save endangered species.
Though perhaps a gentle round of applause from a suitable distance might be a tad more appropriate.
For as well as being a fearsome killer of humans, or anything else that strays into its path, the green eyed monstrous nile croc is also the source of a highly valued leather, that fashion houses turn into expensive handbags, belts and shoes.
Between the 1940s and 1970s, over zealous hunting caused these thick skinned creatures to be listed on the IUCN Red List as endangered in many parts of sub-Saharan Africa and Madagascar.
Fast forward 50 years and nile crocodiles are doing reasonably well. They are no longer listed as endangered and organised crocodile farms meet the demand for their skins without threatening the wild populations.
So what changed?
Read full article CITES species meeting: 'The only game in town'