Why is it all going wrong for Jeb Bush?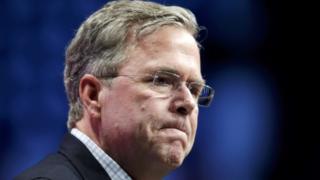 One of my more memorable moments on the campaign trail so far came after the Republican debate in Boulder, Colorado, when I found myself chasing Jeb Bush down a corridor, attempting to lasso him with a boom mike - a contraption which looks like a fishing rod, with a rodent-like furry microphone attached to the end.
Bush was smarting from a lamentable debate performance, during which his attempt to ambush his one-time protege Marco Rubio with an attack on the Senator's absenteeism from Capitol Hill had boomeranged horribly.
The headline "Boulder Crushes Bush," was already doing the rounds on Twitter. In the spin room, veteran journalists composed one-word obituaries: "Finished."
Suffice to say, Bush was not in the mood for a lengthy post mortem with the BBC, and headed down the corridor with an uncharacteristic burst of energy.
Yet when I asked him if his performance was up to scratch, that furry microphone positioned temptingly just below his jawline, he was sufficiently riled up to answer.