Chuck Blazer's blog chronicles his lavish Fifa days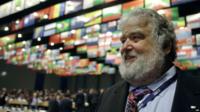 If ever you have wondered how a corrupt Fifa official spends their time and ill-gotten money then the blog Travels with Chuck Blazer and his friends will make for informative reading.
The blog was maintained by the Falstaffian figure who was once the domineering powerbroker of American soccer, but has now pleaded guilty to racketeering, wire fraud, money-laundering and income tax evasion.
A rotund, giant of a man, with an extravagant salt-and-pepper beard, Chuck Blazer bears more than a passing resemblance to the Roman god Neptune.
His taste for the high life also recalls the feasting of the gods. Fittingly, his pet parrots, which he kept in a glass aviary in his office in the Trump Tower on Fifth Avenue, were called Venus and Apollo.
His blog throws up a cornucopia of treasures.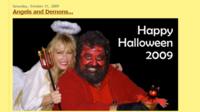 Read full article Chuck Blazer's blog chronicles his lavish Fifa days