American exceptionalism in a time of American malaise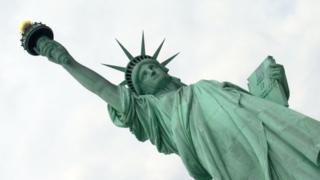 Though a Frenchman was the first person to describe America as "exceptional" and a Soviet, Joseph Stalin, inadvertently helped popularise the phrase "American exceptionalism" - he called it a "heresy" - the notion the United States is not just unique but superior has long been an article of national faith.
Writing in Democracy in America, which set out to explain why the American Revolution had succeeded while the French Revolution had failed, Alexis de Tocqueville observed Americans were "quite exceptional", by which he meant different rather than better.
Over the centuries, however, the idea has taken hold here that America is liberty's staunchest defender, democracy's greatest exemplar and home to the usually brave - a country like no other.
That America has emerged as the leader of the free world is not regarded as some cosmic fluke.
Its global role and mission, a responsibility to spread American values around the world, was divinely sanctified and historically preordained, thanks to the genius of its founding fathers.
Read full article American exceptionalism in a time of American malaise