Donald Trump turns notoriety into a win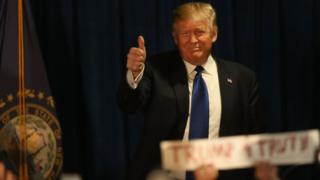 So Donald J Trump has sealed the deal.
The billionaire has shown in New Hampshire that he can turn publicity, controversy, even notoriety, into a winning margin of votes - indeed, a large winning margin.
The Donald is not just hype. The Trump brand clearly works in the political arena.
He is not just the ultimate clickbait candidate, a human headline who has blurred the lines between politics and entertainment, but a serious contender with a path to the Republican presidential nomination.
How can he possibly win, the question asked last June when he first stepped from the golden doors of the elevators in Trump Tower to announce his long-shot bid for the presidency, has now changed. How can he possibly be stopped?