Iraq war casts long shadow over US and UK politics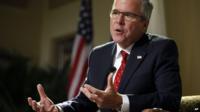 On both sides of the Atlantic, the Iraq war continues to cast a diffuse shadow from which politicians are struggling to escape.
It falls upon the fight for the Republican presidential nomination, Hillary Clinton's White House quest and the debate over the future direction of the Labour Party in Britain.
Even freshman politicians, like Florida Senator Marco Rubio, who was three years shy of heading to Washington when the statue of Saddam Hussein was toppled in Baghdad's Firdos Square in April 2003, have been touched by its gloom.
Seeking to follow his brother into the White House, it was inevitable that Jeb Bush would be quizzed about the decision to go to war.
What's been surprising, astonishing even, is his fumbling response. After all, he and his team must surely have war-gamed such a predictable line of inquiry.
Read full article Iraq war casts long shadow over US and UK politics