UN focuses on refugees - will it be enough?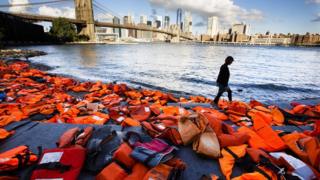 This week the centre of attention for the global refugee crisis shifts from the beaches of Greece, the refugee camps of Jordan, the shoreline of Libya, the fatal waters of the Mediterranean and the battlefields of Syria to the riverside home of the United Nations in New York.
The worst human displacement problem the United Nations has ever confronted will be the focus of two major events here aimed at galvanising worldwide action. As this film shows, the scale of the problem is immense:
The first event, held on Monday, is a UN refugee and migration summit. The following day Barack Obama will convene his own refugee event on the fringes of the UN general debate, the annual diplomatic jamboree held in New York that draws leaders from all over the world.
At the UN event, world leaders will adopt the New York Declaration, a document enshrining certain principles, such as a commitment to share responsibility for the refugee crisis more equitably between member states and to combat racism and xenophobia.
Despite its grandiose title, however, the "outcome document" is a classic UN fudge. To secure the backing of UN member states, it has been written in often vague and generalised language and lacks binding, concrete commitments.
Read full article UN focuses on refugees - will it be enough?