Drip of Russia revelations puts damper on Trump's 'home run'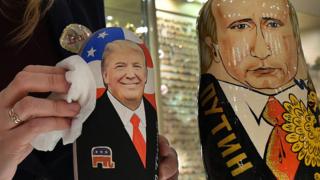 A week that began with a reset ended with Russia, the scandal that refuses to go away.
On Tuesday night, when Donald Trump delivered his first speech before a joint session of Congress, there was a new tone, in marked contrast to the shrillness of his American carnage inaugural, and even new tailoring, a more sleekly fitted suit.
His Twitter feed, that angry scream of consciousness, had also been unusually quiet.
"THANK YOU!" he wrote in caps on Wednesday morning, after his speech received admiring reviews not just from Republicans but some Democratic pundits as well.
Then on Wednesday night, after a day of unusually flattering coverage, came the triple whammy of stories from the New York Times, the Washington Post and the Wall Street Journal: Russia, Russia, Russia.
Read full article Drip of Russia revelations puts damper on Trump's 'home run'