US election: The man hurting Clinton in her fight with Trump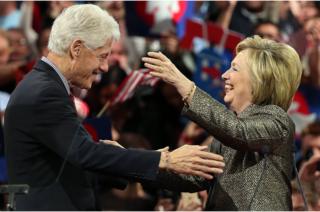 Adding another unanticipated sidebar to this topsy-turvy election, Kenneth Starr has lavished praise on Bill Clinton, citing his "genuine empathy for human beings", calling him "the most gifted politician of the baby boomer generation" and commending his post-presidential philanthropy, which he noted was Carteresque in its benevolence.
Starr, a former independent counsel, was the author of what's probably the most expensive piece of pornography ever published, the Starr Report which chronicled, in graphic sexual detail, Bill Clinton's affair with a 21-year-old White House intern, Monica Lewinsky.
The one-time character assassin has become a character witness.
Bill Clinton, despite being impeached for lying under oath about that affair, left office with the highest approval rating - 66% - of any departing president.
He was also credited with balancing the federal budget and reviving the American economy from its early-Nineties slump.
Read full article US election: The man hurting Clinton in her fight with Trump