The end of the Anglo-American order?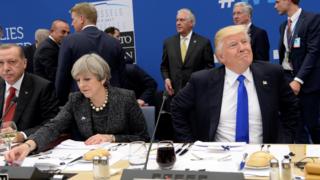 There has always been a shared conceit at the heart of the special relationship between the United States and United Kingdom that global leadership is best expressed and exerted in English.
More boastful than the Brits, successive US presidents have trumpeted the notion of American exceptionalism.
Prime ministers, in a more understated manner, have also come to believe in British exceptionalism, the idea that Westminster is the mother parliament, and that the UK has a governing model and liberal values that set the global standard for others to follow, not least its former colonies.
In the post-war Anglo-American order those ideas came together. In many ways, it was the product of Anglo-American exceptionalist thinking: the "city upon a hill" meets "this sceptred isle".
Nato, the IMF, the World Bank and the Five Eyes intelligence community all stemmed from the Atlantic Charter signed by Franklin Delano Roosevelt and Winston Churchill in August 1941.