New York: The city where Donald Trump hates being hated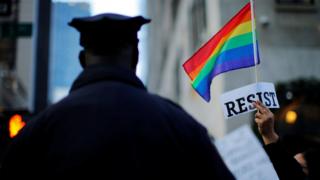 After a year of being greeted by fawning crowds in the American heartland, Donald Trump appears to be struggling with the hostility that now surrounds him in New York City.
Outside Trump Tower, you don't see many people wearing Make America Great Again baseball caps or hear them chanting "build a wall!"
Despite boasting he could turn the Empire State red, Hillary Clinton won in a landslide. In New York City, she took 79% of the vote.
Of the city's five boroughs, Trump took Staten Island, a blue-collar stronghold, but was beaten badly in the other four. In Manhattan, his long-time home, nine out of 10 voters supported Hillary Clinton.
New Yorkers have voiced their displeasure with a Big Apple mix of in-your-face boisterousness and creative flair.
Read full article New York: The city where Donald Trump hates being hated