First meeting of BBC 'Survivors' Club'
27 February 2016

From the section

UK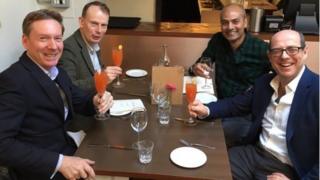 It began as a throwaway line in a diary column I wrote to mark my traumatic return to full-time work at the BBC.
Traumatic because my debut on BBC Radio 4's Today programme was memorable largely for the scratchy sound of a voice struggling to cope with the demands I was making of it, after it was damaged in an otherwise highly successful operation to remove a tumour.
"I plan to cheer myself at the inaugural dinner of the Survivors' Club," I wrote referring to an idea my esteemed BBC colleague Frank Gardner (shot) had proposed to Andrew Marr (stroke), George Alagiah (cancer) and myself (cancer).
I wasn't sure that we would ever get round to breaking bread or supping wine, but wrote that I proposed that rule one of the club should state: "Talking about your medical condition is strictly prohibited."
Any breach would be punishable by picking up the bill.