Election 2015: Debate - The Ed v Nicola Show (part two)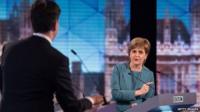 On the morning after the debate before, it is clear the election is increasingly being defined by two competing narratives.
On the one hand Ed Miliband is slowly and steadily introducing himself to voters as a potential prime minister.
The Labour leader has always argued that the more voters see of him the more they will rate him.
Last night he was able to use attacks from the left - on austerity and Trident - as well as assaults from the right - on Europe and immigration - to look statesmanlike.
David Cameron's absence gave Mr Miliband the chance to taunt the absent prime minister for his lack of political courage.
Read full article Election 2015: Debate - The Ed v Nicola Show (part two)