Osborne aims for 'new settlement'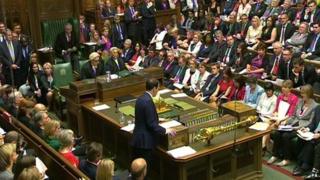 It was indeed a "big" Budget - just as the chancellor said it would be.
It was delivered by a politician with "big ambitions".
George Osborne's stated aim was to create what he called a "new settlement". That's politician's code for re-writing the rules of politics to suit your side.
So it is that he did something rather surprising - slowing and softening spending and welfare cuts now having promised faster and deeper cuts in the run up to the election.
So it is that he adopted a series of Labour policies - a higher re-badged minimum wage, a levy on firms to pay for apprentices, an assault on the tax privilege of so-called non doms.