Election 2015: The power of the woman who isn't even running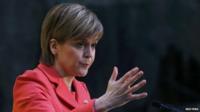 Something truly extraordinary happened this morning.
A woman who is not even a candidate in this election; whose party is running in just one of the four nations and which, even if it does as spectacularly well as some polls suggest, would have just one in 13 MPs in Westminster pledged to build not just a "stronger Scotland" but a "better and more progressive politics for everyone" in the UK.
Nicola Sturgeon showed once again why she is the undoubted star of this general election campaign and why she says her Inbox is filled with emails from voters from outside Scotland who want the chance to vote SNP.
In a confident performance she declared that an end to austerity was the SNP's number one priority. She spelt out what SNP MPs would back - a mansion tax, a bankers bonus tax and a new 50p top rate of income tax - as well what they would oppose - Trident, the "bedroom tax" and cuts to disability benefits.
Her headline pledge was to vote for an increase in NHS spending bigger than any other party has so far promised - £9.5bn above inflation in England by 2021 which implies a total increase on spending on the NHS in Scotland of £2bn by 2021.
Capital investment
Read full article Election 2015: The power of the woman who isn't even running