Charlie Gard: A case that changed everything?
29 July 2017

From the section

Health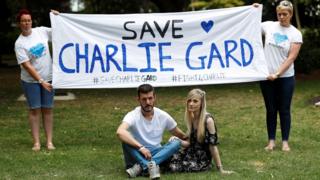 Few British legal cases in recent years have proved as controversial or emotionally charged as that over the fate of Charlie Gard, the 11-month-old baby who died on Friday after a lengthy battle over his medical treatment.
During the many hours of legal debate in court, Katie Gollop QC, who led Great Ormond Street's legal team, described the case as "sad", but not "exceptional".
She was wrong. The case, which saw Charlie's parents take on the world-renowned hospital in the courts, was one of those rare cases that transcend the cut-and-thrust of legal argument.
Its impact reverberated around the country and the rest of the world, prompting protests on the streets, a mass outpouring of emotion on social media, the vilification of one of the most famous hospitals in the world and the intervention of both the Vatican and US president.
In doing so, it made us question the role of the parent, the motives of doctors and - as always in this digital age - wonder about the ever-growing influence of the internet. How did it come to this? And what does it tell us about society?
The tarnishing of a famous hospital
Read full article Charlie Gard: A case that changed everything?