How scrapping targets could help ambulances
30 November 2016

From the section

Health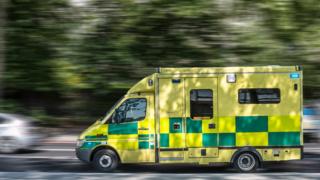 The ambulance service in the UK receives about 30,000 calls a day. Or, to put it another way, by the time you've finishing reading this article 30 people will have rung 999 pleading for help.
The challenge for the hard-pressed control centre staff is working out which cases are genuinely life threatening - and which are not - so they can prioritise where to send crews.
How do they do that? They have a complex set of questions that have to help them determine how to categorise patients. There are about 7,500 different codes and a decision has to be made quickly.
Unsurprisingly it leads to mistakes being made. About a quarter of crews dispatched to life-threatening calls in England, which have a target of eight minutes to be reached, are called back before they reach the scene.
A similar situation arises in Northern Ireland, Scotland and, until last year, Wales.
Read full article How scrapping targets could help ambulances