How red bags are bringing NHS and care homes closer
27 June 2016

From the section

Health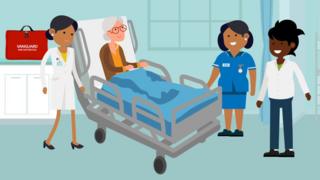 Like many good ideas, the way the NHS and care sectors in the London borough of Sutton are working together more closely is a relatively simple concept.
When a care home resident needs to go into a hospital, a red bag is packed for them.
It contains their details, vital information about their health conditions, supplies of medicine, and a change of clothes for when they are ready to be discharged.
"You would not believe how many people face delays simply because clothes can't be found for them," says Mary Hopper, a senior NHS manager in Sutton. "You have staff going to lost property trying to find them something to fit."
The initiative also sees a member of the care home staff visiting the patient in hospital within 48 hours of admission.
Read full article How red bags are bringing NHS and care homes closer