NHS confusing public by using 'gobbledygook'
29 March 2017

From the section

Health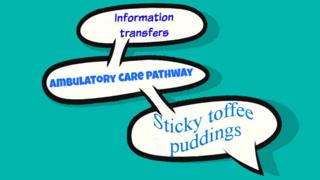 Imagine the scene. Up and down the country, local NHS leaders are crowded into meeting rooms discussing information transfers and ambulatory care, when someone jumps up and shouts "I've had enough of sticky toffee puddings".
Confused? You're not the only one. The language being used by the health service is simply gobbledygook, says the Plain English Campaign (PEC).
Steve Jenner, the campaign's spokesman, said the health service was riddled with "jargon" when it comes to explaining anything from the closure of hospital services to major incidents.
And he even believes the NHS may be doing this on purpose.
"If you use impenetrable language it means the public has no clue what is going on. I can't help thinking that suits the NHS sometimes," he said.
Read full article NHS confusing public by using 'gobbledygook'