Brexit, Elections and Revolts. But what about Labour?
23 March 2017

From the section

England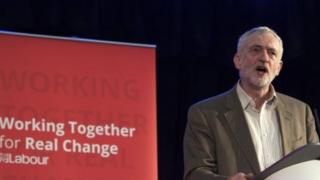 In normal times this would be a gift for a Labour opposition.
The Conservatives anxious about Europe yet again, just as Theresa May confirms she will trigger Article 50 next Wednesday, setting Britain on course for two years' of intensive and, for her party, divisive negotiations over the terms of the Britain's exit from the EU.
Downing Street damping-down yet more speculation about an early election: surely any opposition worth its salt would want an election as soon as possible.
And persistent talk of Conservative backbench revolts which make Theresa May's 17-seat majority look precarious to say the least.
Last week the Government Chief Whip and South Staffordshire MP Gavin Williamson had the unenviable task of telling the Prime Minister and the Chancellor that the increase in national insurance contributions for millions of self-employed workers, proposed in the budget, had insufficient support on the Tory backbenches. That led to one of the more embarrassing climb-downs in the long history of government U-turns.
Read full article Brexit, Elections and Revolts. But what about Labour?