Drum beats in Midlands election battle
1 May 2015

From the section

England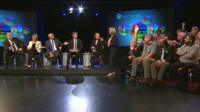 What do Charlie Chaplin, Laurel and Hardy and Morecambe and Wise have in common with Sajid Javid, Tristram Hunt, Nigel Farage and Lorely Burt?
And do please resist the temptation to tell me they were or are all clowns!
The answer is that they have all appeared at the theatre formerly known as the Aston Hippodrome in Birmingham, now reincarnated as The Drum arts centre.
How appropriate that the culmination of our BBC Midlands Today coverage of this most dramatic and unpredictable campaign should take place in its auditorium.
Immigration and HS2
For the record, UKIP leader Nigel Farage's appearance at the same venue was the following evening, screened nationally on BBC One following the Question Time special with Messrs Cameron, Miliband and Clegg.