Immigration challenge Brexit inquiry chair Gisela Stuart faces
17 August 2016

From the section

England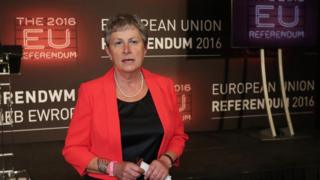 "We will protect EU citizens' rights and then expect the same for UK citizens in the rest of the EU."
That's how the Labour MP for Birmingham Edgbaston Gisela Stuart thinks the government should open its Brexit negotiations with the EU on the thorny question of the rights of EU migrants over here, and those of Brits currently living over there.
As chair of the victorious Vote Leave campaign, Ms Stuart faced repeated questioning during the run-up to the referendum over the rights of about 3.5 million European citizens here in the UK and more than one million UK citizens residing in other EU countries in the event of a Brexit vote.
What may have seemed to some like an abstract debating point before the vote has now become a potentially agonising reality for those millions of people on either side of the looming divide. It is against this challenging background that Ms Stuart has been announced as the chair of a cross-party inquiry for the centre-left research organisation British Future.
She believes the post-Brexit uncertainty means EU citizens living here are "left in limbo".
Read full article Immigration challenge Brexit inquiry chair Gisela Stuart faces