Ins and Outs of EU red cards, red lines and emergency brakes
2 February 2016

From the section

England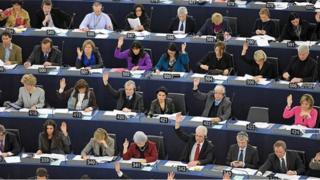 The likelihood of an EU Referendum on Thursday 23 June 2016 seems to fluctuate by the day, but at the time of writing it looks more probable than ever.
So in as little as four months' time, we could find ourselves making the most important political decision of our lives: to leave or to remain in the European Union.
No wonder we are already seeing a distinct sharpening in the debate between the Leavers and the Remainers.
The early exchanges remind me of that old 'Monty Python' scene in which the cry goes out: "What have the Romans done for us?" Except that this time it's the EU.
Back comes the answer from the CBI: the UK economy is 5% bigger than it would be were we not in the European Single Market. That equates to over three million jobs. Over £130bn worth of business is directly linked to trade with the EU according the pro EU business campaign Business Stronger in Britain.
Read full article Ins and Outs of EU red cards, red lines and emergency brakes