Midlands business leaders expect the unexpected
30 June 2016

From the section

England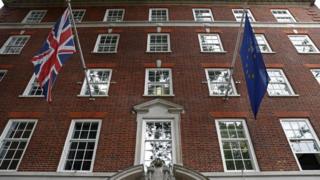 "If you want to hear the sound of God laughing, just tell Him about your five-year plan."
Those were the words with which I opened a conference of nearly 400 business leaders in the impressive Vox Conference Centre at the new Resorts World complex adjoining the National Exhibition Centre.
That testimony to the glorious uncertainty of life has been credited to the one-time doyen of the London Business School, Professor Charles Handy. But I was told recently that it was more likely to have been coined by no less a philosopher of our times than Ken Dodd of Knotty Ash.
Whatever its origin, the statement certainly set the mood for the first big get together of the captains of industry in the economic heart of Britain since that watershed vote for Britain's exit from the European Union.
The event had been called to mark the launch of the West Midlands Combined Authority, complete with economic engine, to drive the government's "Devolution Revolution".
Read full article Midlands business leaders expect the unexpected