Dibden Bay is back - plans to double Southampton's port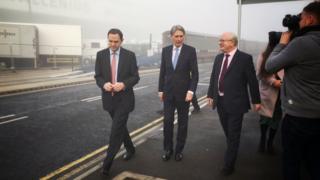 The chief executive of Associated British Ports (ABP) has said the company will be seeking permission for a major expansion of Southampton Docks.
The Dibden Bay development would double the size of the existing docks by using reclaimed land on the New Forest side of Southampton Water.
An application 12 years ago was resisted by naturalist groups and local campaigners and was rejected after a year-long inquiry which cost ABP £40m.
During a visit to Southampton earlier by the Chancellor of the Exchequer Phillip Hammond, ABP re-stated its case to expand Southampton, saying it was having to turn business away.
ABP chief executive James Cooper said: "We do have to find a way to expand the capacity of this port to handle Britain's trade.
Read full article Dibden Bay is back - plans to double Southampton's port