Prince William ready to be full-time royal
27 July 2017

From the section

UK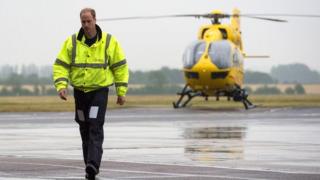 As a prince and as a future king, William has worn and will wear plenty of uniforms.
But the flight suit he'll hang up after his last shift has particular significance.
For two years it's been his "passport" to a life where, on merit, he helped people save lives.
This after all is a man who wishes that when he was younger he could have done more to protect his mother.
He's been exposed to the National Health Service in a way that no other senior royal has been or possibly ever will be.
Read full article Prince William ready to be full-time royal