Royal trip to 'show strength of EU ties'
17 July 2017

From the section

UK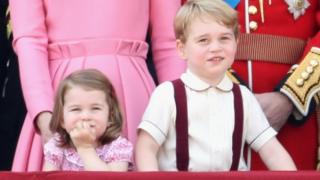 For Prince George and Princess Charlotte such trips are a novelty but, as the future of the British monarchy, they'll one day become a way of life.
For their parents, the visit to Poland and then to Germany will inevitably be viewed in the context of Brexit.
It won't have any impact on the negotiations.
It will, the Foreign Office hopes, remind people of the strength of the ties that will endure after the UK has left the EU.
It's this mission the royals have pursued in recent months in various European cities.