In pictures: Koo Stark on both sides of the lens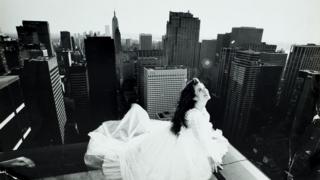 Around 30 years ago while browsing in a book shop in Shepherd's Bush, I picked up a copy of a small book called Contrasts by Koo Stark. It contained around 100 pictures taken by her, from portraits to landscapes, many showing a light-hearted touch.
For the first time in around two decades, a selection of those pictures are on show once more, alongside her photographs of actors and musicians, a few nudes and, of course, pictures of the model and photographer herself.
Koo Stark had an unusual route into the business. A relationship with the Duke of York in the early 80s meant pictures of her were in high demand by the press, with photographers camped out around her home and tailing her every move.
Reasoning that the faces of the photographers were all hidden behind their cameras, perhaps she could do the same thing and take some of that anonymity for herself. Koo Stark decided to pick up a camera and shoot back - arguably the first to make the leap from one side of the camera to the other.
"I thought if I put a camera up to my face they wont be able to tell it is me," says Stark. Though she says there was no way of hiding her long hair.
Read full article In pictures: Koo Stark on both sides of the lens