Behind the scenes at the Royal College of Music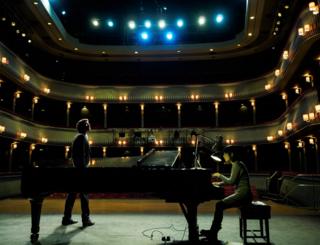 Edmond Terakopian is used to covering hard news, chasing the latest political story, reacting to events and capturing the moment through his lens. Yet his latest project takes him a long way from this, behind the scenes at the Royal College of Music. Here he talks about the work.
With long-term assignments sadly becoming a thing of the past, I was on the lookout for a something I could work on, and, following a chance meeting with a tutor at the Royal College of Music, a door opened for me.
My timing coincided with an upcoming staging of Benjamin Britten's Albert Herring. With Britten being a former pupil of the Royal College of Music and the theatre there being called the Britten Theatre, everything was aligned and I felt that it was meant to be.
My idea was to document every aspect of this opera, especially the parts no-one sees: auditions, set-building, costume fittings, rehearsals, lighting and the dressing rooms.
My favourite imagery soon came from what was going on backstage during the dress rehearsals and performances so I spent a fair amount of my time photographing these beautifully silent and introspective moments.
Read full article Behind the scenes at the Royal College of Music