Ruskin's daguerreotypes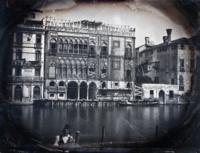 In 2006 a set of daguerreotypes which it was believed were once owned by, and in the main taken by, the 19th Century critic John Ruskin were sold at auction. Those images have now been published in a book and their provenance confirmed.
The pictures were taken in Italy, France and Switzerland around 1850. There are several of Venice, and what are believed to be the the earliest surviving photographs of the Alps.
Collectors Ken and Jenny Jacobson have spent years preserving the pictures which were purchased from the Cumbrian auction house Penrith Farmers' & Kidd's PLC for £75,000, from an original estimate of just £80.
Mr Jacobson described the find of the 188 previously unknown pictures as the most exciting of their career.
"We feel that the quality and unorthodox style of many of Ruskin's daguerreotypes will come as a major surprise to both photographic historians and those in the field of Ruskin scholarship.