Did Labour over-spend?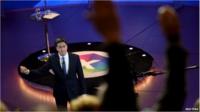 Members of the Question Time audience became conspicuously grumpy when Ed Miliband said the last Labour government did not over-spend.
So who was right - them or the Labour leader?
Well, they both have a point.
There was a gap between what Labour was spending and what it was receiving in tax revenues in the few years before the great crash and recession of 2008.
But that gap was not massive: sometimes it was a tiny bit bigger than the growth rate of the economy, sometimes a bit smaller; which means there was no significant increase in the ratio of public sector debt to national income or GDP.