Why SNP matters to whole of UK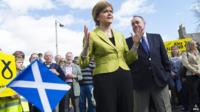 John Swinney, the SNP's deputy First Minister of Scotland, told the Today programme this morning that the heart of its manifesto - due out later today - would be to end austerity in the UK as a whole, and would support Labour to bring that about.
This may sound great for Labour and Ed Miliband. But it is in fact pretty much his worst nightmare.
How so?
Well, Labour last week put at the heart of its manifesto that if elected it would get the government's deficit and debt down in the course of the next parliament, and to that end there would be cuts in non-protected public services (or everything but schools, health and overseas aid).
It did that partly because all its polling showed that in England it would need to demonstrate what it thinks of as "fiscal credibility" to get a hearing from undecided voters.