Does the Queen's Speech make economic sense?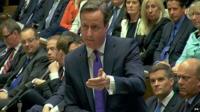 The first legislative programme of the Conservative government looks ambitious. But what does it tell us about the economic soul of David Cameron and his ministerial colleagues?
Is there a rubric or ideology that usefully describes their agenda? Or is it best seen as pragmatism designed above all to shore up Tory support in parts of England where it is weak, and a short-term prophylactic against the restiveness of nations undermining the prime minister's ability to govern?
Here are phrases offered to me by one of the writers of the Queen's Speech that are supposed to show it is a seamless and coherent reform package: "It is One Nation - helping working people, championing social justice and binding the UK together."
Hmmm.
It is certainly possible to see the proposed measures as unifying us, in all those senses. But equally there are risks attached to almost all the important initiatives, whose impact could be to drive wedges between nations and social classes.
Read full article Does the Queen's Speech make economic sense?