Why aren't UK pay rises delivering votes to Cameron?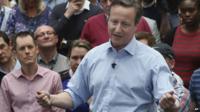 David Cameron may look at today's stats on unemployment and wonder why on earth his party is only neck and neck with Labour in the opinion polls, and not benefiting from record employment levels and a significant rise in inflation-adjusted pay (before tax and benefits).
Probably the most interesting stat for me was that regular pay - excluding bonuses - saw a 2.2% increase in February and a 1.8% rise in the three months to Feb. And for the first time since serious records began, that headline rise is the real rise - because CPI inflation is 0%.
It is striking that fears of employers significantly shrinking pay rises with the disappearance of inflation have not materialised: there is no sign in the UK of so-called bad deflation (which of course means the Bank of England remains on course to push up interest rates, rather than cut them).
Here is the thing: regular pay has been growing at a faster rate than inflation since last October, after years of lagging inflation. And what is more, pay rises in the private sector, which provides more than four-fifths of all employment, are even greater, at 2.6% in one month and 2.2% over three months.
Also, the employment rate of 73.4% is the highest since comparable records began in 1971. And the unemployment rate of 5.6% is down from 8% in early 2010 and is only a fraction higher than it was before the great crash and recession: it was 5.2% in February 2008.
Read full article Why aren't UK pay rises delivering votes to Cameron?