Perhaps austerity didn't choke off UK recovery
30 September 2015

From the section

Business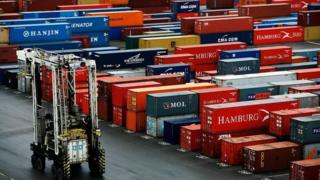 Today we learned that our recent economic past and the almost-present weren't quite as painful as we thought. But what does that mean for our future prosperity?
Perhaps most important, the deficit on our current account - the difference between the money we earn from the rest of the world and what we pay the rest of the world, on trade and investment - narrowed sharply from an unsustainably high 5.2% of GDP in the first three months of the year to 3.6% in the second quarter.
That is the first time in two years that the rate at which we've been shipping in debt from abroad dropped comfortably below 5% of GDP - having widened to a record 6% plus of GDP on a couple of occasions since the middle of 2013.
And what is striking is that the improvement was down to the part of the current account that for the past 30 years has been intractably lacklustre, viz our net sales of goods and services.
What's more, this improvement took place in spite of a strengthening of the pound by almost 6% on a trade-weighted basis in the first half of the year.
Read full article Perhaps austerity didn't choke off UK recovery