Why aren't sponsors tougher on Fifa?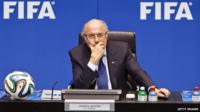 The Fifa scandal is an "absolute disaster" for the multinationals who sponsor it - because they cannot escape taint from the perceived lapses of football's supreme governing body.
That is the view of a range of very senior business people and marketing gurus to whom I have spoken.
One said: "This is a nightmare for them - the reputational damage is huge".
So why aren't these huge and powerful global companies doing what the UK culture secretary John Whittingdale has asked, and following the lead of Visa - which said it would review its sponsorship deal if Fifa does not clean up its act?
Well, part of the answer is implicit even in the less mild sabre-rattling of Visa. Because it is striking that even Visa only said it might review its commercial relationship with Fifa, not that it was doing so.