Can we be persuaded to pay for online news?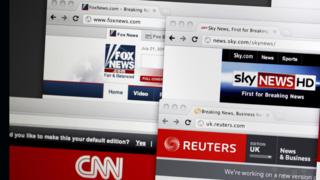 Got any idea of how to make money from news in the online era? Well prepare for the media giants to beat a path to your door, as they struggle with plunging print advertising revenues and an audience that seems to think news should be free.
No wonder then that a young former technology journalist Alexander Kloepping is attracting attention - and investment - from the likes of the New York Times and the Axel Springer group.
His idea is called Blendle, and in his native Holland it has brought hope of better times for newspapers, in much the same way as Spotify has shaken up the music industry. Blendle allows the Dutch papers - which have all signed up to the service - to charge small payments for individual articles.
Blendle subscribers are presented with a series of cards on their home screen, showing the first paragraphs of articles which may interest them. If they click to read on they are charged somewhere between 20 cents (14p) and 90 cents (63p), although if they get to the end and decide they are unsatisfied they can get a refund.
Of half a million people who signed up to Blendle, about 100,000 have actually opted to pay for articles. Kloepping says that is a good start and compares it to the 20% of Spotify users who pay rather than opt to listen to adverts.
Read full article Can we be persuaded to pay for online news?