Seamless shopping and the future of work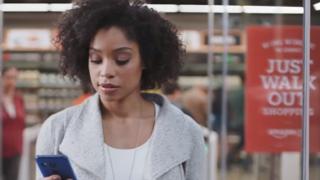 A man walks into a shop, grabs a sandwich off a shelf then walks straight out.
A woman browses the selection of ready meals, puts one in her handbag and leaves. Scenes from a viral video - not about shoplifting but about Amazon's vision of the future of retailing.
It shows a shop which, says Amazon, is fitted out with the sort of technology which is used in self-driving cars - computer vision, sensor fusion, and deep learning.
The customer taps in with a smartphone on arrival, meaning the shop understands which products they have taken and later bills them via an app which has their credit card details.
Just Walk Out Shopping, as Amazon calls it, sounds like a concept for the 2020s - but the first store opens in Seattle in January 2017.
Rethinking retail