Twitter, Facebook - and the battle for advertising dollars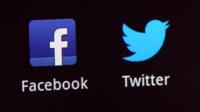 It's been a dismal week for social media companies that aren't Facebook.
Last night the professional networking site LinkedIn posted a disappointing revenue forecast, sending its shares plunging 25% in after-hours trading. Earlier in the week, Twitter had also shocked the market by missing revenue forecasts.
Both companies have sky-high valuations in what is a pretty frothy technology market, with investors betting that they will grow very rapidly and deliver huge profits in a few years' time. Now, both Twitter and LinkedIn are still growing users and revenues - just not at the rate that the markets demand.
The other difficult question for Twitter in particular is whether it can ever convince enough advertisers that it is the place, rather than Facebook, to reach an online audience. When Facebook floated a couple of years ago, it warned that its ability to make money from mobile advertising was uncertain - and back then you might have thought Twitter was better positioned for the mobile era. But today mobile revenue accounts for 75% of Facebook's very substantial earnings.
Twitter's problem is twofold - it has a much smaller audience, and is far behind Mark Zuckerberg's company in developing its advertising proposition. For years, it seemed determined not even to talk about a business model, now it's desperately trying to convince companies that it offers all sorts of attractive ways to reach consumers.
Read full article Twitter, Facebook - and the battle for advertising dollars