Will it be a tech election?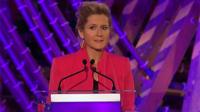 It's among the most important issues in the upcoming election, up there with the economy, immigration and the NHS. Or at least it should be - according to Baroness Martha Lane Fox. She believes debate should be raging over the coming weeks about the role the internet can play in the UK. But is she just whistling in the wind?
In her passionate and witty Dimbleby lecture last night, the web entrepreneur and digital evangelist outlined her plan for our country to become "the most digital, most connected, most skilled, most informed on the planet". She laid into politicians, company bosses and the media for failing to understand the importance of digital technology.
She bemoaned the slow pace of superfast broadband rollout, said the legislation governing our data was "woefully inadequate", and called for the creation of a new institution she called "dot everyone". Among other things, this would set about getting everyone educated about the potential of the internet and dealing with the desperately low participation of women in technology. "Let's make the UK the best place to be a female technologist in the world," she told us. My colleague Zoe Kleinman has been writing about this issue.
And Martha Lane Fox demanded that journalists do a better job of making technology matter: "Politicians and business leaders are getting away with all this because you're not asking the tricky questions. No more about the price of milk - what about the price of broadband?".
But will her message be heard? Will digital policy be on every interviewer's lips as they challenge aspiring MPs? There are plenty of technology issues which could be addressed over the coming weeks.