Can tech solve the Brexit border puzzle?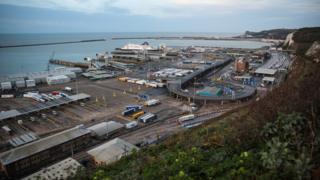 There are two competing visions of how goods will flow in and out of the UK after Brexit.
Either the M20 will become a lorry park as endless customs checks at Dover choke the motorway. Or technology will help create frictionless borders and exporters will hardly notice any change.
The truth, according to those who have studied the issue, is somewhere between the two. So, can technology solve the border puzzle?
Do we really need border checks?
Right now there are no customs checks at Dover or other borders with EU countries. After Brexit there will be - unless the idea floated by the UK of an invisible border gets a better reception in Europe than it has today.
Whatever the nature of the UK's trading relationship with the EU after we leave, it seems certain that there will be added bureaucracy for both companies and the government, but technology should lighten the load.