General election 2017: All or nothing for Labour on tuition fees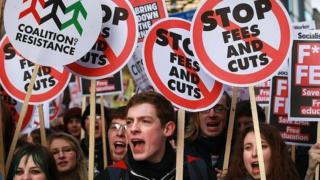 Scrapping tuition fees in England is the biggest and most expensive proposal in Labour's £25bn worth of pledges for education.
Instead of fees rising to £9,250 per year in the autumn, Jeremy Corbyn is proposing a complete handbrake turn in saying that university tuition should not cost students anything.
It's a bolder step than Labour's previous leader, who two years ago opted for a halfway house of cutting fees to £6,000 - and then was accused of pleasing no-one.
This is Labour going for an all-or-nothing approach - asserting free education as a fundamental principle - and creating the starkest choice in university policy for two decades.
It's a direct appeal to younger voters - with surveys suggesting that students are more likely to vote Labour.
Read full article General election 2017: All or nothing for Labour on tuition fees