Free schools: Successful experiment?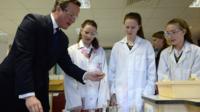 When people argue about free schools, they're often not really arguing about free schools.
What they're arguing about is what they think free schools will become.
Are they stalking horses for selling-off state education in England to the private sector? Or are they a test-bed for a more innovative way of running schools?
Will they be a template for creating more school choice? Or are they outriders for a fragmented, deregulated school system that side-steps local democracy?
But when you peel off the ideological wrapping paper, a free school is not really any different from many other schools.