Graduates stuck in pay freeze permafrost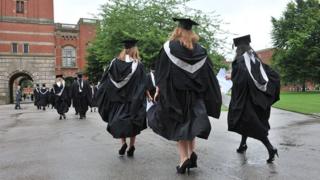 If graduates are feeling like they never get any better off, despite having a degree, maybe that's because they really are getting poorer.
The latest official statistics show that the long ice age of wage stagnation is grinding on - and that graduate earnings have been in a deep freeze stretching back for the past decade.
Since university tuition fees in England rose to £9,000 there have been recurrent questions about whether it's still financially advantageous to get a degree.
The Department for Business, Innovation and Skills has published its latest figures on the graduate labour market - and it shows that graduates are still getting a career benefit.
They earn more on average than non-graduates and are much less likely to be unemployed. Postgraduates earn even more and those with higher grades of degrees are paid more than those with lower.