'London is most educated city in Europe'
24 August 2016

From the section

Business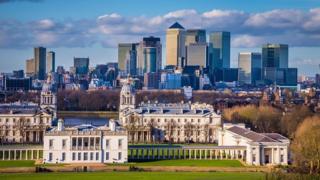 Where in Europe would you expect to find the highest concentration of graduates?
Would it be a particularly earnest quarter of Oslo? Or an erudite corner of Finland or Germany?
The answer - by a considerable distance - is London. In parts of London, more than two in three adults of working age, have a degree or higher education equivalent.
It is above anywhere in the European Union and unlike anywhere else in the United Kingdom.
It suggests how this mega-city, drawing talent from around the globe, has become a different type of economy. It's a city state of the digital age, trading in ideas.