Operation Stack: Could it be the norm?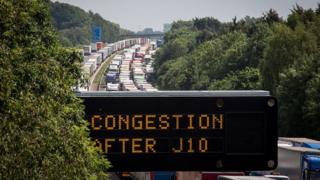 Operation Stack. Every day. For perpetuity.
That was the stark warning sent by the head of the Port of Dover to UK and European politicians on the eve of Article 50.
That is the trigger that fires a two-year countdown for the beginning of the end of the UK's membership of the European Union and with it the border agreements that put European goods on UK shelves and vice versa.
His warnings are not the ravings of a Brexit pessimist. They are a clear message to governments, both here and in France, that the cost of failure in agreeing new rules in the currently frictionless movement of stuff between here and our biggest trading partner, the EU, could be severe.
The EU's chief negotiator, Michel Barnier, has already highlighted customs checks as a key obstacle to trade. Tim Waggott, the CEO of the port of Dover is confident that a clear and sensible solution is available.