Bombardier in the crossfire
18 September 2017

From the section

Business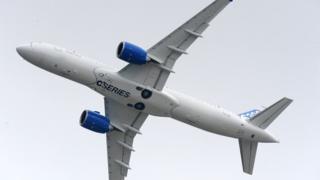 The future of Belfast's largest employer, Canadian aerospace firm Bombardier, will be on the agenda when Theresa May meets Justin Trudeau later today.
As well as discussing a potential future free trade agreement, both Canada and the UK have reason to fear that when it comes to aircraft manufacturing, trade with the US may come with big tariffs attached.
US manufacturer Boeing, with the support of Donald Trump, insists Bombardier is selling its planes to US airlines at knock down prices - only made possible by subsidies from the Canadian and UK government.
When aircraft manufacturers go to war, governments rarely sit on the sidelines. The large subsidies that all aircraft manufacturers need to finance the enormous upfront costs of plane development mean that corporate disputes can, and often do, become international political incidents.
This one has tentacles that affect the balance of Westminster politics. Bombardier's 4,500 strong workforce in Belfast are caught in the crossfire of a bitter trade dispute. The area surrounding the plant is very important to the DUP on whom Theresa May relies for her slender governing majority. So the politics of this dispute are jet fuelled.