Why is the FTSE breaking records?
11 January 2017

From the section

Business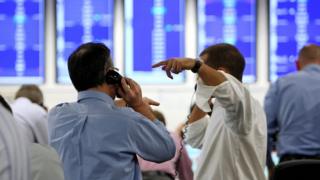 Records tumbled as waves of euphoria crashed over the markets once again.
For the ninth time in a row, the FTSE 100 ended at a record close on Tuesday - the first time that has ever happened since the index was compiled in 1984.
The pat answer for soaring share prices has been the falling pound.
The FTSE 100 is stuffed full of miners, oil companies and banks who earn most of their money in dollars.
As the pound falls (which it has in the last couple of weeks, on the perceived increased likelihood of a "hard" Brexit), so those foreign earnings are worth more in sterling terms. Ergo, share prices rise.