Is India's anti-corruption party unravelling?
31 March 2015

From the section

India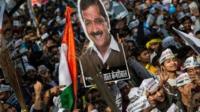 Is India's anti-corruption Aam Aadmi Party (AAP) unravelling?
Weeks after staging an epic comeback - winning 67 of the 70 assembly seats in the Delhi state elections and posing the first real challenge to Prime Minister Narendra Modi's BJP - the two-year-old party, run by the charismatic former tax inspector Arvind Kejriwal, has been roiled by feud and dissension. Inspired leaks and murky sting operations initiated by party leaders have meant that most of the party's dirty linen has been washed in public.
Things have now come to a head with Mr Kejriwal completely sidelining two of AAP's key founder members.
Yogendra Yadav and Prashant Bhushan, who counted themselves among his closest allies, have been dropped from key decision-making panels for their alleged "anti-party" activities. Alluding to the rise of a cult of personality around Mr Kejriwal, the two said that the party was at risk of becoming a "one-man show" and blamed its opaque decision making. Analyst Ajaz Ashraf, who has been closely following AAP, says it is really a "power struggle dressed up as a battle of ideas and a fight for transparency".
Indian politics has a chequered history of splits and mergers, so a breakup of AAP will be an unexceptionable event. (A popular book on politics in India is titled Divided We Stand.)
Read full article Is India's anti-corruption party unravelling?