Why India gang-rape film row is extraordinary
5 March 2015

From the section

India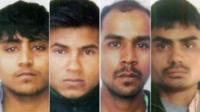 A documentary by a British film-maker on the 2012 gang rape and murder of a female student in Delhi has kicked up a storm in India.
The courts have issued an injunction stopping it from being shown in India, and the home minister has promised an inquiry into the making of the documentary.
The film and the row it has generated are extraordinary for four main reasons.

Incredible access
British producer Leslee Udwin gained some of the most extraordinary and rare access that any film-maker has ever had inside an Indian prison.
She interviewed convicted rapist Mukesh Singh for 16 hours over three days. She says the crew was given permission by the jail authorities and the ministry of home affairs.
Read full article Why India gang-rape film row is extraordinary