Delhi farmer death highlights countryside crisis
23 April 2015

From the section

India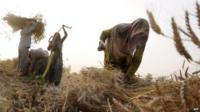 If you believe media reports, Gajendra Singh, the man who died after hanging himself at a political rally in Delhi on Wednesday, was hardly the poorest of farmers.
Journalists visiting his village in Rajasthan found that his family owned more than 10 acres of land, growing wheat, gooseberry and teak.
To put things into perspective, 65% of land holdings in India are small, often less than an acre. In states like Rajasthan, however, medium and large holdings - over 15 acres per plot on average - make up 70% of all farmland.
Mr Singh's family lives in a single-storey six-room house. The building and the fields around it speak of an "affluent background", according to the Indian Express newspaper.
The farmer left a note - now contested by his family - saying he was "driven out of home" after his crops were destroyed by bad weather. But villagers say crop damage in the area was considerably less than in some of the worst-hit regions.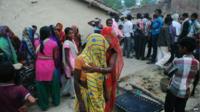 Read full article Delhi farmer death highlights countryside crisis