India's water refugees who live in cattle camps
29 April 2016

From the section

India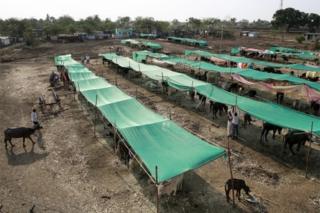 Five months ago, the Gholap family - three brothers and their wives - moved from their drought-hit village home in Beed in the western state of Maharashtra to a squalid shantytown of straw-and-tarpaulin cattle shelters.
They brought along their 21 head of cattle, some clothes and utensils, a rope bed, and a wall calendar to keep track of time. Back in the village, it hasn't rained for the past three years, and their three-acre farm lies barren. There's no fodder for the animals, and wells are dry. Most of the young men in the village have migrated to the cities in search of work.
So the Gholap family left their four school-going children home with their ageing parents, to forage for water and fodder. At the shelter in Palwan, they found both, plentiful and free, provided by the government. "If we go back home we will starve," says Bal Bhim Gholap. "This is our home now."
The shelter in Palwan is one of 267 cattle camps in Beed - one the 256 drought-hit districts in India - that provide free water and fodder to animals. More than 280,000 cattle along with thousands of farmers are packed into these camps.
'Dismal life'
Maharashtra has been ravaged by drought - many say it equals the worst in a century - and the Gholap brothers are among the estimated nine million affected farmers. Beed is possibly the worst-affected district.
Read full article India's water refugees who live in cattle camps