Has Narendra Modi lived up to expectations?
25 May 2015

From the section

India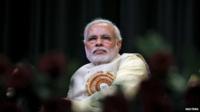 Is a year in power long enough to evaluate the performance of a new government? Possibly difficult in a country with many unresolved social and economic issues like India, but it is a good time for some stock-taking.
So it is with Narendra Modi and his BJP government, which stormed into power last May.
Mr Modi ran a presidential-style campaign, promising achhe din, or better times, if elected. It is a promise which his supporters continue to cling to, and his detractors sneer at, saying it was a deceit to capture political power.
Yet, if opinion polls are to be believed, Indians continue to be hopeful about Mr Modi.
A poll by Mint newspaper found the prime minister has an approval rating of 74%, although down eight percentage points since last August. Another poll by the Times of India found 47% of the respondents saying that Mr Modi's performance in government had been "somewhat good", and an ambivalent quarter saying that it had been "neither good, nor bad".
Read full article Has Narendra Modi lived up to expectations?