Why do Indians vote for 'criminal' politicians?
16 January 2017

From the section

India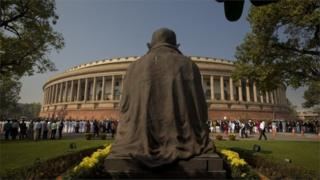 Why do India's political parties field candidates with criminal charges? Why do the voters favour them despite their tainted past?
Political scientist Milan Vaishnav has been studying links between crime and democracy in India for many years now. His upcoming book When Crime Pays offers some intriguing insights into what is a disturbing feature of India's electoral democracy.
The good news is that the general election is a thriving, gargantuan exercise: 554 million voters queued up at more than 900,000 stations to cast their ballots in the last edition in 2014. The fortunes of 8,250 candidates representing 464 political parties were at stake.
The bad news is that a third (34%) of 543 MPs who were elected faced criminal charges, up from 30% in 2009 and 24% in 2004.
Fiercely competitive
Some of the charges were of minor nature or politically motivated. But more than 20% of the new MPs faced serious charges such as attempted murder, assaulting public officials, and theft.
Read full article Why do Indians vote for 'criminal' politicians?