What divorce and separation tell us about modern India
29 September 2016

From the section

India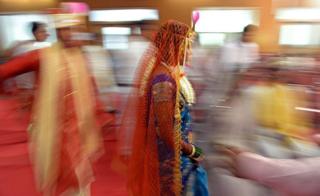 "There can be no objection to the right of divorce. But conferring this right on women, by itself, would be unmeaning and probably more productive of harm than of good," wrote a commentator in a floridly-worded essay in May 1949 on the changing status of women and divorce in India.
Writing in the respected journal Economic Weekly, Roma Mehta said women in India were "more protected and much better cared for than in the West"; that they found "more happiness more often than not in her home; and her troubles and heartaches were solved in family" where she lived. "The incompatibility may sometimes be very great indeed; but in spite of it all, the family is maintained."
She argued that divorce did not "concern the very vast majority of people" in a country where the economy is fundamentally rural, people are uneducated with no contact with the outside world, and the "clamour for better living is absent". So, wrote Ms Mehta, the "problems of love and hate, of marriage and remarriage, are solved on a simple plan which is worked out for the community only".
Changing equations
That was then. The landmark Hindu Code Bill passed in the parliament in the mid-1950s gave women property rights, outlawed polygamy and allowed partners to file for divorce. The laws were further tweaked in 1976 to allow divorce by mutual consent.
Over time, the traditional joint family has given way to nuclear families in cities and towns; and more and more women are going to work or setting up their own businesses. Many urban women no longer have to depend on their spouses for financial security, men are sharing household chores; and gender equations are slowly changing.
Read full article What divorce and separation tell us about modern India