Why are statues of Indian icon Ambedkar being caged?
2 October 2015

From the section

India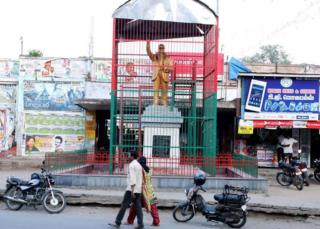 He was one of India's tallest leaders: the architect of what is probably the world's longest constitution, a legal scholar, a spiritual leader and, most importantly, the undisputed leader of Dalits, some of the most wretched citizens because of an unforgiving and harsh caste hierarchy that condemns them to the bottom of the heap.
After Mahatma Gandhi - whose birthday falls on Friday - Bhimrao Ramji Ambedkar is indubitably India's most revered leader.
All over the country, his statues abound: in towns and cities and villages, road crossings and railway stations, and in parks. The charismatic leader is usually portrayed as a stocky bespectacled man, wearing a western suit and tie, with a pen in his front pocket and holding a book - the constitution of India - under his arm.
This, according to historian Janaki Nair, "symbolises the self-assertion on the part of Dalits". Not surprisingly, in caste-ridden and unequal India, Ambedkar is a lightning rod for Dalits (formerly known as untouchables) and their opponents.
This also possibly explains why authorities are placing in cages the statues of the leader - the "darling of the dispossessed", as historian Ramachandra Guha calls him - in many states.
Dark reality
Read full article Why are statues of Indian icon Ambedkar being caged?