Nepal earthquake: How India and China vie for influence
28 April 2015

From the section

India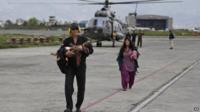 The alacrity with which India and China have reacted to the massive earthquake in Nepal again demonstrates how the two Asian giants continue to vie for influence in the tiny, landlocked Himalayan country.
India lost no time in sending aircraft to Kathmandu carrying disaster response forces, medical teams, food, medicines and rescue equipment. China promptly flew in rescue teams, sniffer dogs, medical equipment, tents, blankets and generators. Leaders of both the countries - Narendra Modi and Xi Jinping - were also quick to convey their condolences. "For many people of our country, Nepalis are our own people," said Mr Modi in his monthly radio show on Sunday.
The competition for influence in Nepal between the Asian giants is not new, but it appears to have escalated in recent years.
Nepal's ties with India run deep and are often, according to many, schizophrenic. Many in Nepal - including the Maoists - have criticised its "semi-colonial" relationship with India, spoken about Indian "expansionism" and pointed to how their impoverished country had become India's "bonded market". Indian traders have controlled much of the lucrative parts of Nepal's economy. Asymmetrical water sharing treaties, many argue, have allowed downstream irrigation benefits for India. Nepalese opposition parties, playing the nationalist card, have sometimes thrived on anti-India rhetoric; and Maoists have derided other mainstream parties as India's brokers.
Close relationship
On the other hand, Delhi is geographically, linguistically and culturally much closer to Nepal than China. The anti-India rhetoric softens when political parties come to power. "India has been a political player in Nepal as much as any Nepali political party," says Michael Hutt, professor of Nepali and Himalayan studies at the University of London.
Read full article Nepal earthquake: How India and China vie for influence