Why cracking down on cheating in India's Bihar state is tough
3 June 2016

From the section

India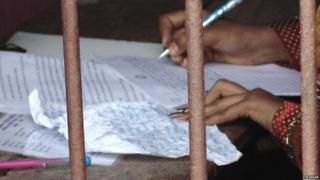 On Friday, 14 students in eastern India's Bihar who topped school examinations will face three teachers in an office in the state capital, Patna, to be retested.
The examiners will be checking the handwriting of the students and will be asking questions to find out whether they cheated in their examinations.
The decision to arrange this unprecedented retest was taken after a local TV channel broadcast footage showing two of the top-scoring students struggling to answer basic questions posed by the reporters.
Ruby Rai and Saurabh Shresth topped the school-leaving class 12 examination, in which more than a million students took part. On paper, they are the cream of the crop.
Blacklisted
But Ms Rai, who scored top in the humanities stream, told the channel that political science "was all about cooking", while Mr Shresth, who can first for science, named aluminium as the most reactive element in the periodic table, when it is in a less active group.
Read full article Why cracking down on cheating in India's Bihar state is tough