Is Narendra Modi losing his mojo?
19 October 2017

From the section

India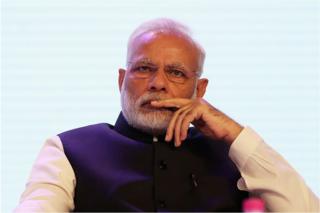 One of the reasons why Narendra Modi swept to victory with a historic mandate in 2014 was his combative and upbeat oratory. Three years on, the Indian prime minister is beginning to sound unusually defensive.
Many say Mr Modi's characteristic bluster and bombast have begun to wane. In recent speeches, he has described his critics as doomsayers, blamed the previous Congress government for India's economic ills, painted himself as an "outsider" and said he was "willing to drink poison" for the good of the country. Has the victor turned victim?
"A small number of people weaken us," Mr Modi told a gathering of company secretaries recently. "We need to recognise such people."
So is Mr Modi beginning to lose his mojo? Three years ago, when he won his landslide, he promised reforms and jobs. But under his leadership - and at a time when the world economy appears to be taking off - India is looking like a sorry outlier, battling an economic slowdown and a jobs crisis.
Banks are struggling with mountains of bad loans, which in turn has choked credit and hurt domestic investment. "India's economy is grounded," says economist Praveen Chakravarty.