Do India's stray dogs kill more people than terror attacks?
6 May 2016

From the section

India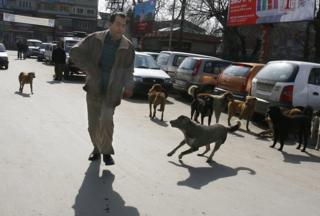 In March, the civic authorities in one of India's richest cities made a startling disclosure in the country's top court: dog bites in Mumbai had killed more people in 20 years than the two deadly terror attacks in the city - the 1993 serial blasts and the 26/11 attack in 2008.
According to the municipality's petition in the Supreme Court, 434 people had died from rabies - a fatal viral infection which is almost 100% preventable - transmitted by dogs between 1994 and 2015. (In comparison, the two attacks killed 422 people.) More than 1.3 million people had been bitten by dogs in the city during the same period.
Animal rights groups say the comparison with terror attacks is alarmist hyperbole. But in a country where courts are struggling with a chronic backlog of more than 30 million cases, it is intriguing that the top court has been grappling with the issue of stray - or free roaming dogs - and rabies.
Feral dogs
The reasons are simple: India has some 30 million stray mutts and more than 20,000 people die of rabies every year. Last year, Global Alliance for Rabies Control reported that India accounted for 35% of human rabies deaths, more than any other country.
Read full article Do India's stray dogs kill more people than terror attacks?