'Beef' lynching: Failure of India's political imagination?
5 October 2015

From the section

India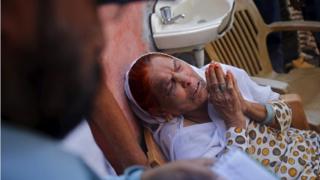 What does the aftermath of last week's lynching of a 50-year-old Muslim man by a Hindu mob over rumours that his family had been consuming beef say about political imagination in India?
Mohammad Akhlaq, an ironsmith, was killed in his village in Dadri in Uttar Pradesh, barely 50km (31 miles) from the Indian capital. His 22-year-old son Danish was seriously injured in the attack. Another son, Mohammad Sartaj, who works as a technician with the Indian Air Force, survived the attack because he does not live in the village.
A week into the horrific incident in his backyard, Prime Minister Narendra Modi, usually so active on social media, has maintained a studied silence.
He has expressed his "gratitude to American people" for their hospitality during his recent trip to the US, greeted a cabinet colleague and a governor on their birthdays and the people of China on its National Day, offered his condolences on the death of a singer's son and congratulated a billiards champion on his prolific twitter feed. Not a word on Mr Akhlaq. Mr Modi's soundlessness on Dadri, according to historian, Shiv Visvanathan, is the "silence of indifference which becomes obscene, because it denies dignity to the victim".
'Astonishing'
His BJP party, which rules India with a whopping majority, has done worse. Tarun Vijay, a senior party MP, wrote in a newspaper that "lynching a person merely on suspicion is absolutely wrong, the antithesis of all that India stands for and all that Hinduism preaches", almost implying that lynching a person when you are sure that he has consumed beef could possibly be condoned. "Vijay has accomplished the astonishing feat of even making apology look almost homicidal," wrote outraged columnist Pratap Bhanu Mehta, adding that the "blame for this has to fall entirely on Modi".
Read full article 'Beef' lynching: Failure of India's political imagination?