Why India needs to get rid of its sedition law
29 August 2016

From the section

India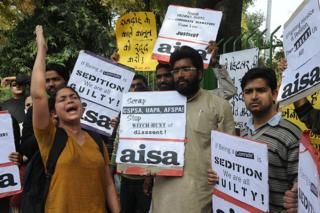 In India, you can be charged with sedition for liking a Facebook post, criticising a yoga guru, cheering a rival cricket team, drawing cartoons, asking a provocative question in a university exam, or not standing up in a cinema when the national anthem is being played.
So when actress-politician Divya Spandana, better known by her screen name Ramya, made some remarks last week praising Pakistan, a lawyer filed a private case in a local court, seeking to get her charged with sedition for "appreciating the people of Pakistan", India's neighbour and rival.
Ramya had returned from a trip to Islamabad and found Pakistan was "not hell" - a riposte to the Indian Defence Minister, Manohar Parrikar, who recently remarked that going to Pakistan was the "same as going to hell".
'Anti-national'
Lawyer K Vittal Gowda was clearly not impressed.
"By saying that people in Pakistan are good, she has committed sedition. This is an anti-national statement," he told my colleague Imran Qureshi in Bangalore, after filing his complaint. India's info-tech capital is no stranger to such allegedly seditious activities: earlier this month, city police slapped a sedition case against Amnesty International India after some people allegedly raised "anti-India slogans at its event".
Read full article Why India needs to get rid of its sedition law