What do the cash queues tell us about India?
29 November 2016

From the section

India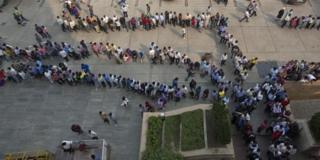 There was a time, not so long ago, when most Indians stood in queues for hours on end for essential goods and services.
I remember queues outside "fair-price shops", streetside taps, cinema houses and electricity offices. People lined up to buy cheap food and fuel, store up water, go to the cinema and pay bills.
Mailing a letter from the post office could involve several queues: one for buying stamps, another for weighing the letter. Even the dead queued up, waiting to be cremated.
India was an economy blighted by shortages - even the well-to-do had to "virtually" queue up for a car and telephone for years - and queues were linked to lack of supplies. When you booked a long-distance call on the creaky state-run telephone network, an automated voice reminded you that: "You are in the queue."
'Line of lines'
But, on the whole, the physical queues reminded many of us of Vladimir Sorokin's novel The Queue, a slyly funny tale about the chokehold of interminably long lines on the lives of people during Stalin's rule which, he wrote, had turned the Soviet Union into a gigantic "line of lines".
Read full article What do the cash queues tell us about India?