The Indian tribesmen catching giant snakes in Florida
6 February 2017

From the section

India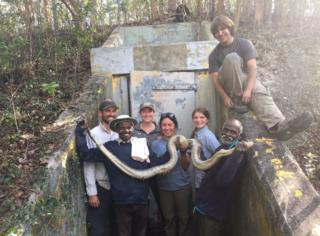 Every morning, two Indian tribesmen in T-shirts and long trousers, leave their dwellings in southern Florida and head into the Everglades to hunt for some of the world's biggest snakes.
Masi Sadaiyan and Vadivel Gopal, members of the once-nomadic Irula tribe, are armed with crowbars and machetes. Wearing fleece jackets and baseball caps, they slash and wade their way through the largest subtropical wilderness in the world to hunt down Burmese pythons.
The non-native snakes - which escaped into the wild in Florida or were released as pets - pose the biggest threat to the small mammal population of the national park. They also eat birds, alligators and deer. In 2005, a Burmese python tried to swallow an alligator and exploded in the park, leaving both the predators dead.
Ever since the pythons were spotted in the wild more than two decades ago, authorities have tried everything to catch the elusive snakes in the marshes, but with limited success.
They have used pythons (called Judas snakes) to find other pythons during the mating season, asked people to turn in their pet snakes, poisoned prey, and even encouraged people to hunt them for a cash prize.
Read full article The Indian tribesmen catching giant snakes in Florida