Reassessing India's 'forgotten prime minister'
25 July 2016

From the section

India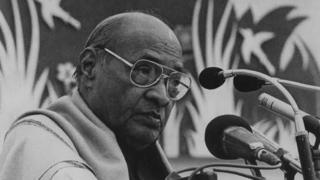 He won eight consecutive elections and spent more than 50 years in his Congress party before becoming the prime minister of India. A father of eight children, he spoke 10 languages, and was a proficient translator. He first travelled abroad when he was 53, mastered two computer languages and wrote computer code in his 60s.
That's not all. Before becoming 10th prime minister of a fractious democracy, PV Narasimha Rao campaigned in three languages, won from three states and was more connected to the grassroots than most modern-day Indian leaders. He also held a wide range of ministries - foreign, defence, home, education, health, law - with mixed results.
Yet there was nothing flamboyant about Mr Rao. His biggest shortcoming, according to party colleague and former minister Jairam Ramesh was that he had the "charisma of a dead fish".
Formidable odds
Mr Rao was also the prime minister India forgot.
To be fair, the unassuming politician was an accidental prime minister, emerging as a surprise candidate in a party numbed by the assassination of Rajiv Gandhi by a Tamil Tiger in May 1991, and the refusal of his bereaved widow Sonia Gandhi to take over the reins.
Read full article Reassessing India's 'forgotten prime minister'