Are the Rohingya India's 'favourite whipping boy'?
25 September 2017

From the section

India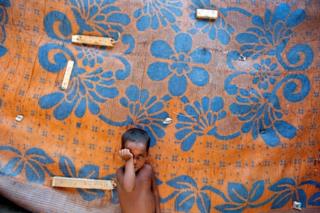 At home in Myanmar, they are unwanted and denied citizenship. Outside, they are largely friendless as well. Now the government says that Rohingya living in India pose a clear and present danger to national security.
First, a government minister kicked up a storm earlier this month when he announced that India would deport its entire Rohingya population, thought to number about 40,000, including some 16,000 who have been registered as refugees by the UN.
The Rohingya are seen by many of Myanmar's Buddhist majority as illegal migrants from Bangladesh. Fleeing persecution at home, they began arriving in India during the 1970s and are now scattered all over the country, many living in squalid camps.
The government's announcement has come at what many say is an inappropriate time, as violence in Myanmar's western Rakhine state has forced more than 400,000 Rohingya Muslims across the border into Bangladesh since August.
When petitioners went to the Supreme Court challenging the proposed ejection plan, Narendra Modi's government responded by saying it had intelligence about links of some community members with global terrorist organisations, including ones based in Pakistan.
Read full article Are the Rohingya India's 'favourite whipping boy'?