Southern Loathing: No end in sight for disruption for travellers
14 June 2016

From the section

London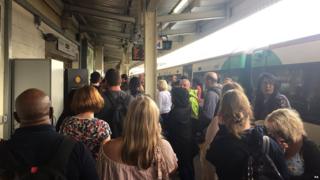 Commuters on Southern trains have had an appalling time recently.
Another 24 hour guard strike is set to take place next Tuesday, and the latest daily performance figures, which record the number of trains arriving within five minutes of the planned time, were shockingly low at just 30%.
That will not be a surprise, as commuters on those services are stuck in the middle of a perfect storm.
There is the ongoing Thameslink upgrade work at London Bridge which means there is a lack of capability there to handle any disruption well.
On top of that, there is now an extremely ugly and acrimonious industrial dispute over changing guards' roles and moving towards Driver Only Operations (DOO). Two strikes have already been held.
Read full article Southern Loathing: No end in sight for disruption for travellers