Night Tube: a low risk, steady launch
22 August 2016

From the section

London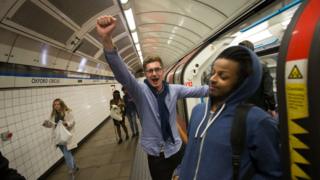 At last. After all that wrangling, the strikes, the delays, the safety concerns, Tube trains ran through the night on Friday and Saturday.
And it looks like it all went without a hitch.
Of course, technically there should not have been any problems as London Underground already runs trains through the night on New Year's Eve, however, this is a new service operated by an army of part-time drivers.
The latest figures show that over the weekend there were 100,300 trips on the Night Tube.
While that doesn't seem a lot compared to a daily usage that can peak at nearly five million trips, London Underground says it is confident it will see further growth.