Why a national rail strike will hit the south east worst
19 May 2015

From the section

London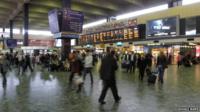 Think of transport in London, and you might call to mind the Tube, red buses or even black cabs.
But we also rely heavily on the rail network and, at the risk of stating the obvious, if there is a rail strike then it is London, the south east and many commuter towns that will bear the brunt.
According to the latest figures from the Department for Transport (DfT), there are more than 10 times the number of peak rail commuters coming into London than the next biggest city in the UK.
This is not to demean the impact on the line in the North, say between Leeds and Manchester, but more people will be impacted in the south east.
The report from the DfT says: "London had a much higher number of passengers travelling in and out of the city centre compared to any other city, with 545,000 arrivals in the morning peak on a typical weekday in 2013 compared to 39,000 in Birmingham, the second busiest city."
Read full article Why a national rail strike will hit the south east worst