No resolution in sight in Southern row
10 January 2017

From the section

London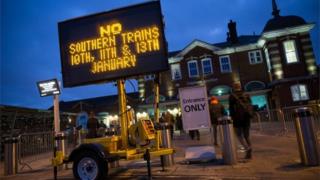 I watched the Southern strike special on Monday night on BBC One where the RMT's Mick Lynch clashed with Govia Thameslink Railway's Charles Horton.
While neither side changed position, what was striking was how animosity and virtually non-existent industrial relations seems to be preventing a deal.
Although the detail is now completely submerged in vitriol, I think it's worth recapping what this dispute is meant to be about.
Govia Thameslink Railway (GTR) wants to introduce driver-only operation (DOO) also known as driver controlled operation (DCO).
Even there, the confusion starts.