Edinburgh Fringe: Why comedians need to get serious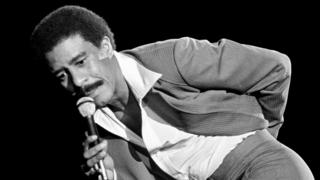 Back in 1967, when Richard Pryor was a 20-something stand-up, he found himself waiting in the wings of a club in Las Vegas about to go on. The house was packed. He was probably nervous and almost certainly high.
He walked on and spotted Dean Martin sitting at one of the front tables. The actor's famous face was full of boyish excitement. Pryor looked around and saw hundreds of other similarly expectant faces: eyes bright, mouths cracked open primed to laugh.
The comedian, who'd grown up in a brothel in Peoria, Illinois, paused. A series of questions went through his mind. What were they looking at? What did they want? Then he swore and wondered out loud what he was doing there.
He turned on his heel and left the stage.
That was the last anyone saw of Richard Pryor the pleasing comedian. He was done with sparkly one-liners with which he had made his name. He reinvented his act and became the man who became the legend who used profanities because they were part of his natural vernacular and not a way of getting a cheap laugh.
Read full article Edinburgh Fringe: Why comedians need to get serious