Bruce Springsteen: More or less than The Boss?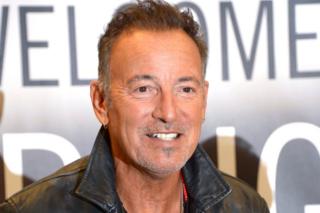 What can I possibly tell you about Bruce Springsteen that you might not already know? Certainly nothing about his attire.
He wears the standard issue rock 'n' roll three-piece: jeans, t-shirt, and a black leather jacket, accessorised - in his case - with biker boots, earrings, and stories of working class life in post-war New Jersey.
Then there's the usual rolling stone-type stuff about the compulsion to tour, about the "mind-numbing power of my rock 'n' roll meds", and about the love of a good woman, Patti, "queen of my heart". You know about the cock-sure kid who became an angst-ridden adult, about the boy with a taciturn father who performed to get attention, about the "fraud" who became a "hardworking journeyman".
You know the script. He knows the script. It is the script. There is only one. But then there was an off-script surprise - for me, at least - that showed The Boss and Bruce to be very different animals.
Bruce has - and I don't mean this as a criticism at all - very little presence. Almost zero. Which I found surprising. It's not just because of his media status as a "legend", "megastar", "icon" - which engenders its own presumptions in an interviewer, and you would have thought must have an effect on an interviewee's sense of self.
Read full article Bruce Springsteen: More or less than The Boss?