Chris Ofili is weaving magic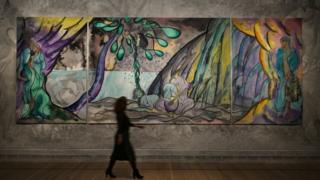 I know some folk think Chris Ofili has gone off the boil since his Turner Prize-winning heyday, when he was considered one of Charles Saatchi's gang of Young British Artists.
Back then, Ofili incorporated elephant dung and cut-outs from porn mags in his paintings, which upset Mayor Giuliani considerably (and the current President who called Ofili's painting, Holy Virgin Mary, "absolutely gross") when Saatchi took his Sensation show to NYC in 1999.
Nowadays, the Mancunian artist lives and works in Trinidad and produces lyrical paintings full of myth and mysticism, infused with the spirits of Henri Matisse and William Blake. El Greco-like elongations have taken the place of porn, the turquoise of the Caribbean Sea now as present as was once elephant dung.
I like his new work. I don't think he's lost form, just moved on. The core of what he does is the same, which is to mix pop culture and art history. From a technical point of view it seems to me that his sensitivity to colour has developed, and his line is more assured. The effect of moving from a modern metropolis to a rural island culture has clearly had a big impact on how he perceives and represents the world.
All of which can be seen in his latest work, a large-scale tapestry called The Caged Bird's Song (a riff on Maya Angelou's book, I Know Why The Caged Bird Sings) currently hanging at the National Gallery in London, before taking up permanent residence at the Clothworkers' Company - the London Livery Company that commissioned it.