Howard Hodgkin: What's in a self-portrait?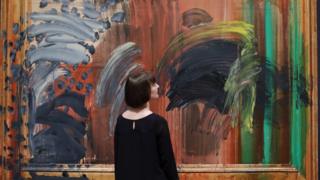 Sometimes with art, it is instructive to gauge public opinion. It can help blow away the cobwebs of pretension that get spun in your mind's eye if you hang around the art world too much.
It's a particularly useful exercise with modern art, and almost essential when it comes to the abstract stuff. Hence, I arrived on Piccadilly this morning armed with a photo of one of the last paintings Howard Hodgkin produced before he died two weeks ago.
Portrait of the Artist Listening to Music (2011-16) is a self-portrait, made while Hodgkin listened to Jerome Kern's The Last Time I Saw Paris and the zither music Anton Karas composed and performed for 1949 film The Third Man.
(Neither appeared on his Desert Island Discs line-up, which just goes to show what terrible frauds castaways are.)
By now you will have seen the picture and arrived at your own first impressions. Those on the mean streets of Mayfair earlier today were not favourable.
Read full article Howard Hodgkin: What's in a self-portrait?