Venice Biennale's brighter future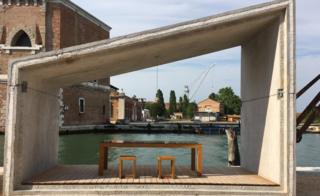 With thoughts on how to house Millenials and designs for an airport for drones, the visionary architects and curators at the Venice Architecture Biennale are looking to the future.
"If we're going to talk the talk, we have to walk the walk," insists the Pritzker Prize-winning Chilean architect Alejandro Aravena - curator of this year's Venice Architecture Biennale.
"[The Biennale] is not about the advancement of architecture but about improving the quality of life… and the way architects try and do that is through the built environment.
"The first thing was to define what are the front lines, what are the challenges, what are the problems?
"Inequality, migration, pollution and the production of waste are the kind of things every single citizen suffers or experiences."