UK City of Culture: Why 2017 will change Hull for the better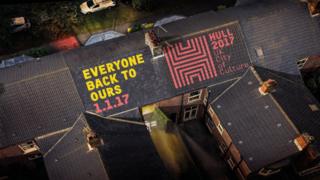 Why on Earth is Hull spending tens of millions of pounds on a 12-month arts festival? What's the point?
Will the much-trumpeted "spectacular light shows" and opera on the Humber Bridge generate a flood of enquires from entrepreneurs looking to set up shop in the area? Probably not.
Will the £4.5m refurbishment of the city's Ferens Art Gallery in preparation for hosting the Turner Prize in 2017 transform Hull from an underappreciated outpost on England's eastern seaboard into a must-visit destination for tourists of all types? Unlikely.
And what about all the partnerships the city is enthusiastically making with the likes of the Tate, BBC and Royal Shakespeare Company - will they help turn Hull into a vibrant hothouse of creativity in the long-term? I doubt it.
So, isn't it all a bit of waste of money?
Read full article UK City of Culture: Why 2017 will change Hull for the better