Brazil politics: Dilma Rousseff the fighter battles on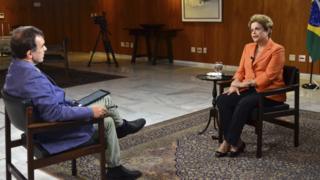 Although I'd met the Brazilian president on a couple of previous occasions, including a very agreeable dinner for foreign correspondents at the Alvorada Palace, her official residence, I'd almost given up hope on a one-to-one interview with Dilma Rousseff.
Two appointments in recent years had been cancelled by her office at the last minute. Given the recent political turmoil in Brazil, an extended interview with the leader of one of the world's biggest democracies was one of those goals, as a reporter based in Brazil, that I'd just about given up on.
So, much to my surprise and thanks to some seriously hard lobbying by colleagues, the news came through this week that we were "on".
I wasn't about to ask "Why now?" especially as this could be the start of her last week as president.
I certainly think there's some truth in the observation that members of the foreign press corps in Brazil have been less hostile in covering President Rousseff's battle against impeachment than some more partisan reporters within Brazil - the openly misogynistic and hostile nature of the debate in the lower house of Congress last month was a revealing window on the brutal nature of politics here.
Read full article Brazil politics: Dilma Rousseff the fighter battles on