What Olympics and Paralympics have done for Rio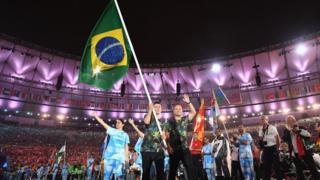 It's been a long, emotional summer in Rio.
The confident, booming country that was awarded the right to host the Games back in 2009 is very different to the troubled, economically challenged Brazil that we see today.
For weeks Brazil and the host city of Rio de Janeiro have been engaged in an epic struggle to convince the world that it was the right choice to hold a first ever Games in South America in a country that, arguably, had more important priorities.
At times the so-called "marvellous city" has absolutely felt up to the challenge. New sporting venues have, by and large, staged great events and many of the things we thought might be problematic issues before the first opening ceremony on 5 August - like the Zika virus and security for visitors - the organisers took in their stride.
At other times, Rio has fallen short. Behind the scenes, Olympic officials talk about too much having been made ready at the last minute, a feeling of "crisis management" and of broken promises.
Read full article What Olympics and Paralympics have done for Rio