Rio de Janeiro: Beguiling, beautiful and brutal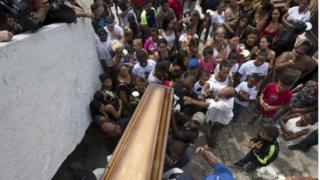 Beguiling, beautiful and brutal.
Rio de Janeiro is all of the above.
Perhaps it's the physical nature of the "Marvelous City" that everything seems to be so close together - the ugly and the serene, rich and poor, violent and peaceful.
The death of 17-year-old Eduardo Felipe Victor dos Santos might have gone down as one more barely noticed statistic in the long-running war between Rio's military police and the city's many drugs gangs.
At Eduardo's funeral in the sprawling Sao Joao Batisita cemetery, just a stone's throw from the upmarket air-conditioned shopping centres and tourist hotspots, mourners had arrived on buses from Providencia favela - or shanty town - where Eduardo lived and died.
Read full article Rio de Janeiro: Beguiling, beautiful and brutal