Rousseff's woes worsen as Brazil's protesters smell blood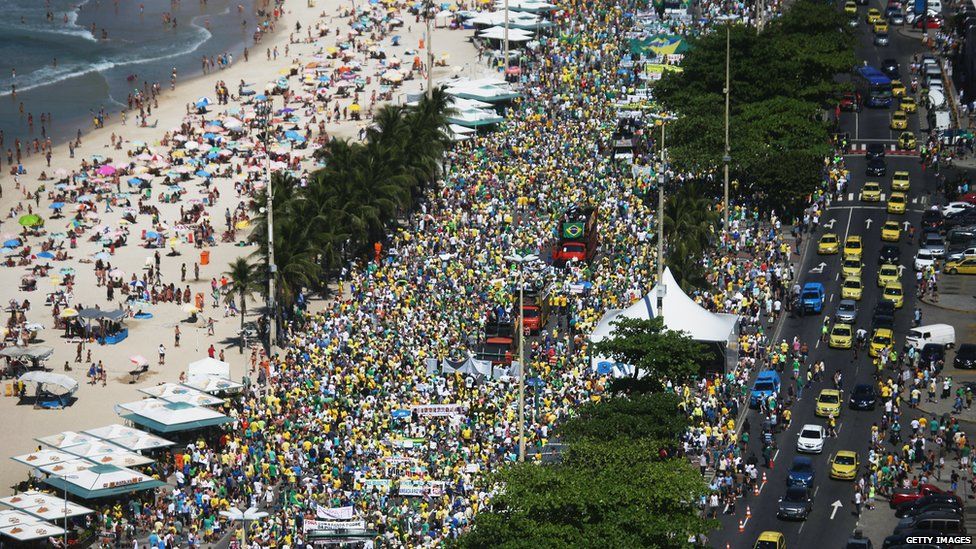 In cities across Brazil on Sunday, thousands of anti-government protesters again took to the streets to demonstrate against corruption and impunity.
President Dilma Rousseff is fighting for her political survival in the midst of an unprecedented corruption scandal, centred on the state owned oil giant Petrobras. Her woes are exacerbated by an economic downturn that threatens to undermine some of the social and economic progress of the last decade.
For months, frustrated Brazilians have been showing their anger in many ways, most notably the neighbourhood "panelaco" - banging pots and pans in noisy protest.
It was a protest the ruling Workers' Party even tried to turn on its head - using political ads to urge fellow Brazilians to put the pans to more productive use feeding the nation and helping Brazil on the road to recovery.
"We're in a year of transition," President Rousseff says in the ad, in something of an understatement. With inflation pushing 10% and economic recession looming, she is using the ad to promise that Brazil will soon return to economic growth, to what she calls "a better place".
'Our future never happens'
Read full article Rousseff's woes worsen as Brazil's protesters smell blood