Zika outbreak: Brazil's race to find a vaccine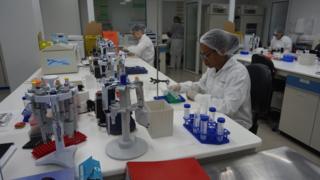 The Butantan institute in the Brazilian city of Sao Paulo is world-renowned for its impressive collection of snakes, spiders and other fascinating creepy crawlies.
Founded right at the start of the 20th Century, the centre is these days equally famous as one of the world's leading producers of biopharmaceuticals and immunobiological products.
This week the BBC visited the research and development laboratories at Butantan.
Here, biochemists were working on a batch of vaccines for diphtheria, one of the many established illnesses and diseases that the centre helps to combat. But now there's a new enemy in town and it has forced a change of priorities.
Unknown quantity
The warnings and concern over the Zika virus are not overblown or unjustified, maintains Alexander Precioso, the institute's director of clinical trials and pharmacological vigilance.
Read full article Zika outbreak: Brazil's race to find a vaccine