Brazil's indigenous leaders risk their lives fighting for survival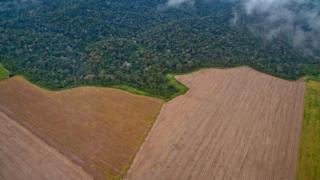 Brazil's indigenous tribes are as diverse as they are numerous: from the south-western sate of Mato Grosso do Sul to the impenetrable northern jungles of the Amazon to the eastern Atlantic seaboard.
There's one thing, perhaps above all others, these tribes have in common - the relentless, insatiable pressure on their land and resources.
Indeed, there is nowhere else on earth as dangerous for "defenders" of land or the environment as Brazil.
"Home" for the Ka'apor people is a legally defined area of about 5,000 sq km in the fast diminishing forests of Maranhao in the eastern Amazon.
The tribe's numbers have recovered in recent years from a perilously low figure of 800 individuals to about 1,800 but their lives and their lands are under constant threat.
Read full article Brazil's indigenous leaders risk their lives fighting for survival