Private schools may ask businesses to fund state pupils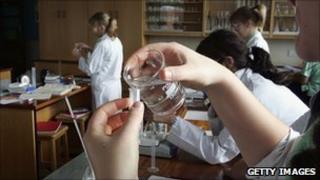 Private schools should ask businesses to help them fund free places for state school pupils in shortage subjects, an independent schools leader has said.
The chairman of the Headmasters' and Headmistresses' Conference, David Levin, said the plan could yield 1,000 places in the UK's top private schools.
These would be offered to talented students wanting to pursue subjects such as maths, physics and languages.
Mr Levin is to launch the plan at next week's HMC conference.
He wants schools to offer two or three places at a 75-80% discount, and to seek funding from businesses to cover the remainder of the cost.
The headmaster of City of London School said that if 200 HMC schools and another 50 girls' schools participated, that would provide "getting on towards 1,000 places".
Despite the pressures of the current financial climate, Mr Levin says he is confident of success on the basis of his own experience.
He says he has raised £11.4m from business in 10 years, providing bursaries for 166 state pupils at his own school.
He says so far, four schools have signed up to the scheme - St Paul's Boys School, Hampton School, St Albans School and City of London School for Girls.
Two businesses had "expressed interest", but did not want to be named, he said.
Teacher shortages
The scheme aims to target subjects which are deemed important for the economy but in which specialist teachers are in short supply in the state sector and undergraduate demand is lagging.
He points out that businesses would be able to gain tax relief on contributions, as many independent schools have charitable status.
Therefore if a school's fees were £10,000 and it offered a place for £2,000, the business might pay £1,400, he said.
"To put a bright chap from an inner city school through a traditional subject in scarce supply sounds like good for business, good for the school and the university, and ultimately good for the UK," he said.
Admissions staff would assess bursary applicants on their aptitude for the subject and their commitment to going on to study it at university.
Independent schools must show they provide "public benefit" to maintain their charity status and independent schools are currently pressing for more clarity from the Charities Commission on what is meant by "public benefit".
The HMC represents 250 fee-paying schools, including Harrow and Eton.