One in three primary head teacher vacancies unfilled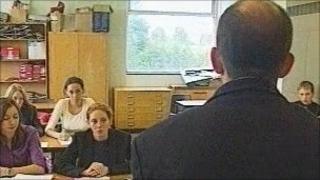 One in three primary schools in England and Wales that sought a new head last year failed to find one, research for the head teachers' union shows.
The study, by Education Data Surveys, showed recruitment problems had worsened, with only 26% of schools failing to fill posts the year before.
The National Association of Head Teachers has long warned of shortages, especially as many heads are retiring.
The government said about 0.7% of schools were without head teachers.
The authors of the report surveyed all schools that advertised vacancies between April 2009 and May 2010.
With a response rate of about 25%, it covered nearly 1,500 posts in total.
The NAHT warned that the unfilled jobs were leaving the profession "on a knife edge".
With 65% of primary head teacher vacancies the result of retirement already, the body said it was concerned that possible changes to heads' pensions would "cause a mass exodus of school leaders from the profession".
The situation in secondary schools is somewhat better, with only one in five vacancies unfilled, slightly up from 19% in 2008/9.
'Red tape'
This year was the first year that candidates have been required to have a head teachers' qualification before applying.
The report's authors said this had, however, failed to improve the supply of suitable candidates, especially in primary and special schools.
"If anything, the situation is now worse than it was last year," the report concluded.
It also noted that faith schools, particularly Roman Catholic ones, continued to face significant problems finding suitable head teachers.
The department for education said that, according to the yearly school census, in January 2010 only 0.7% of head teacher posts were unfilled.
A spokesman said: "We agree that you can't have great schools without great leadership. That is why the Coalition Government is committed to freeing up head teachers from the bureaucracy and red tape they face, so they can get on with doing the job of leading schools to pupils with the best education."
The government says it will set out further plans to reform the teaching workforce in a White Paper later this year.