Newcastle students march over tuition fee hike plans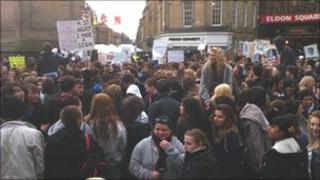 Hundreds of students in Newcastle have been protesting against proposals to raise tuition fees.
Students from schools, colleges and universities in the city gathered at old Eldon Square earlier.
Also around the city, up to 300 pupils from Heaton Manor School walked out as part of the demonstrations.
The government plans to allow tuition fees to rise to up to £9,000 a year. The demonstration was one of a number happening around the UK.
Newcastle University students returned to the university after the protest for an afternoon of discussion about education.
Before the protest, one of the organisers Simon Childs said: "We are going to have a rally and protest there and march back up to Newcastle University for a 'teach-in'.
"It is going to be an afternoon of discussion, debates and lectures about education and why we value education.
"And to just kind of reclaim part of our university for the purpose of education in a kind of symbolic way."