School astride the Belfast divide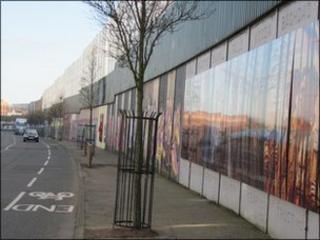 Just a stone's throw from the peace wall dividing Protestant and Catholic west Belfast, stand the shiny new buildings of the Belfast Model School for Girls.
Though non-denominational, historically it is a Protestant school and the sale of its uniforms make for good business in the Shankill Road shops.
And it is from this symbolic heart of Protestant loyalism in the city - the economically deprived and Troubles-hit Greater Shankill - that the school draws its pupils.
But because of demographic changes since the school was built in the 1950s it now stands in a Catholic area.
Some 70% of its pupils are bussed into the school from Protestant areas for reasons of distance and safety. It is generally thought unsafe for pupils in their school uniforms to walk through "interface" areas - the boundary where the two communities meet.
And when the state school was completely rebuilt in 2010, with a staggering array of new facilities, it moved a couple of streets further into a Catholic area.
The divided nature of Northern Ireland means that about 7% of pupils are taught in truly integrated schools.
The rest learn in faith schools linked to their religions or schools that are known locally to serve one community or the other.
In order to bridge that divide, Belfast Model School for Girls is running cross-community classes with girls from neighbouring Catholic school, Our Lady of Mercy Girls' School.
Belfast Model Principal Johnny Graham says: "Because we are in an interface area we have to make sure that everybody respects each other - that we are good neighbours."
He recalls the Holy Cross dispute which took place just a few streets away in 2002 when relations between the two communities were at a low ebb.
Pictures of Protestant families protesting against Catholic parents walking their children to primary school through Protestant areas were broadcast around the world and seem seared on the memories of local people.
"A lot of the parents who may have been on the streets then may be parents who have girls here now. We've moved on since then, but we just want to make sure these sorts of disputes stay in the past," Mr Graham says.
Our Lady of Mercy Girls' School Principal Martin Moreland says his school is the exact mirror image of the Protestant school.
"We are a Catholic school in a Protestant area. Our girls are bussed in and out. Some of the girls in the top years would have gone through the Holy Cross dispute."
He said the cross-community programme had been very challenging and that there was a lot of preparatory work undertaken before any meetings took place.
"We have come a long way. The area being the way it is, some of the girls were saying there is no way that they would be mixing outside of this. But it has been very positive at the informal level of interacting - there have even been some friendships struck up."
As part of this work, groups of girls from both schools went on a tour of the sectarian murals that pepper the area - taking both sets of pupils into unfamiliar territory.
'Similarities'
Citizenship teacher Julie Allen says: "Some of the pupils admitted to being a wee bit intimidated. They would say, 'I've never been here before' - even though it was five minutes away.
"There were sessions looking at similarities and sessions looking at differences and they came out of it realising there were more similarities. In the end they achieved a real understanding that it's not just 'them' and 'us'."
Belfast Model pupil Kirsty, 18, says: "It helps because in Northern Ireland we are brought up from a young age mixing and socialising with people from 'our own side'. You get to know the places you can and can't go."
Marleta, 17, says she had met "cross-community" girls before but had never worked so closely with them.
"It was a new experience for me and it was good. I enjoyed it," she adds.
They are all open to studying alongside Catholic pupils, though they are not sure that all the parents would agree.
Hannah, 17, says of the community divide: "We were brought up with it - we were raised with it but we don't know the causes of it and yet we still believe in it anyway. It all seems a bit pointless."
But ask the girls about the peace wall - a high fence that divides the two communities in flashpoint areas to keep them safe - and whether it should come down and the atmosphere changes.
"Some people say it would be good to remove it - it doesn't make any difference because there's so many ways around it," says Rebekah, 17, who lives in an interface area without a barrier.
But the other girls worry about what might happen.
And yet hundreds of individuals and groups from both sides of the community rub shoulders in the corridors of the school as they come in after-hours to use its facilities.
Sensitivities remain
More community involvement was part of the deal for the school's £31m revamp, supported by the Strategic Investment Board, which includes a suite of computers, recording studios, modern theatre and sports pitches.
Former pupil Tracey Seawright, who now works helping local pupils and parents access a range of services, says: "The sectarian situation has improved but there are still sensitivities and tensions.
"Many of the young people they feel a threat of something - rather than it being a reality."
And this, she says, creates uncertainties and insecurities in the backdrop to these young people's lives.
So much so that an estimated one in 10 girls in every year group is in receipt of counselling - though not all of this is related to the Troubles.
The need is so great that many are seen by counsellors from local partner organisations, such as youth organisation Streetbeat, who come in and offer counselling assistance and other programmes.
The school may be opening its doors to all comers, but Mr Graham says further integration depends on whether local Catholics decide to send their children to the school in the future.
Integration is "grows organically" all the time, he says, and from next year the school will be teaming up with a number of others in the area to offer access to a greater range of A-level courses.
He adds: "There's a situation now where there's a lot of hope for the future and with things like Facebook and mixed places to go out in Belfast there is far more interaction.
"What we are trying to do here is ensure it's a school for everybody. Whichever people come here we don't ask where they're from or who they are - our community work is for the whole community."