School leavers 'need work skills and knowledge'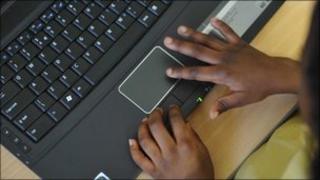 Children need to leave school with the skills required for the workplace as well as knowledge, a head teachers' leader has said.
Association of School and College Leaders president John Fairhurst said such skills should be recognised alongside GCSEs in England.
He said the league tables system "impinges destructively" on teaching.
It comes as ministers are boosting the place of facts and traditional subjects in schools.
'Simplistic'
They have ordered a review of the national curriculum, as well as bringing in the English Baccalaureate, which will be awarded to any student gaining grade C or higher in maths, English, two science qualifications, a language and history or geography.
The ASCL president said young people needed both knowledge and skills, and told members at his association's conference in Manchester that the "dichotomy" between the two was "a myth".
"Successful people have both. Employers understand this. They want knowledge plus a variety of skills and attributes: teamwork, dependability, honesty, persuasion, genuine literacy and numeracy," he said.
He said that ASCL and the Confederation of British Industry agreed that "the bottom line is not test scores but what young people really know and can do when they leave us".
He called for the English Baccalaureate to include vocational subjects and skills that prepared youngsters for the workplace.
'New standards'
Mr Fairhurst said: "ASCL has long argued for an English Baccalaureate. Not the one just launched but a genuine baccalaureate that embraces knowledge plus skills, and which further accredits the whole range of school and community involvement.
"The current English Bacc is not a qualification, it is a performance indicator," he added.
Many schools were angered that the English Bacc was included as a league tables measure only months after it was brought in, while supporters of subjects such as music and religious education are campaigning for their inclusion in the qualification.
"We do not need a new prescription of knowledge. We need a radical rethink of assessment, league tables and accountability procedures," Mr Fairhurst said.
"The system as it is now impinges destructively upon the curriculum and innovative, inspirational pedagogy," he said.
The call for more recognition of workplace skills was backed by Confederation of British Industry. Its chief policy director Katja Hall said: "Every school or college leaver needs the right skills, knowledge and attitude for success in today's competitive workplace.
"But currently employers find that too many young people lack employability skills such as customer awareness, self-management and problem solving.
"Recent school reform has failed to place enough emphasis on these skills. That's why the CBI fully welcomes ASCL's call for the government to support the development of employability skills in the curriculum."