Independent schools warn on visas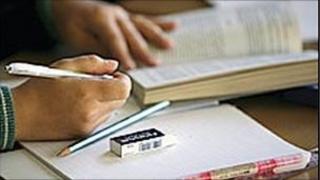 Proposed changes to the immigration system could prevent older overseas teenagers from coming to the UK to study, independent schools are warning.
The Independent Schools Council says its schools are being "lumped in with bogus colleges".
Ministers want to cut immigration from non-EU countries and are targeting the student visa route.
The Home Office says places offering quality products to genuine students have "nothing to fear".
Children's visa
The ISC - which represents most of the UK's independent schools - says planned changes could affect older teenagers who want to come to the UK to study for A-levels or other qualifications.
Children under 17 can be given a children's visa, but those who are older need to apply as adults and could therefore face the tighter controls being proposed by the government.
The coalition has said it wants to to cut net migration from 196,000 to "tens of thousands" by 2015.
Students and their families accounted for about two-thirds of the 273,000 visas issued to non-EU migrants under the UK's points-based system in 2009.
Barrier
Home Secretary Theresa May wants to raise the English language requirements for prospective students and to prioritise degree-level studies.
The ISC fears such changes could hit independent schools.
Its chief executive David Lyscom said: "We are being likened to dodgy colleges and language colleges. It's becoming a real barrier for schools."
He said schools were very low-risk institutions from a migration perspective because children there were highly monitored. There was little danger of pupils "disappearing" - as students at colleges might do.
UK boarding schools attract many pupils from outside the EU and the ISC says 80% of them go on to British universities, bringing financial and other benefits.
The association said in the academic year 2009-10, there were more than 17,000 non-EEA [European Economic Area] pupils at ISC schools, providing roughly £400m in fees.
The group wants the government to draw up a visa route for independent schools to cover pupils of all ages.
A spokesman for the Home Office said: "Any criticism can only be based on speculation as no decisions have yet been made on the changes to the student visa route.
"However, educational establishments that are confident in the product they have to offer genuine students should have nothing to fear from policies that root out abuses in the student visa system."
Universities have also been warning they could be damaged by proposals to restrict student visas.