Gove: tougher new teacher standards needed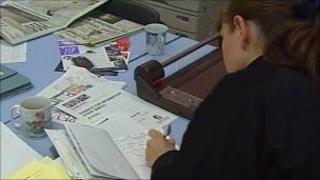 New measures to help schools weed out poor-performing teachers are to be introduced, the Education Secretary Michael Gove has announced.
Mr Gove said new standards would help raise the bar for teaching and improve pupil performance and behaviour.
He has launched a review of the key skills a classroom teacher needs and the new standards will be in place by September 2012.
Teachers say the move is about politics and not trusting teachers.
Mr Gove says current standards teachers have to meet are not "rigorous, clear or effective enough".
At the moment, a trainee teacher must meet 33 standards in order to gain "qualified teacher status" (QTS) and only two of these relate explicitly to skills on how to teach effectively.
Across the board, all teachers have to meet 102 standards, many of which are a "vague list of woolly aspirations", Mr Gove believes.
For example, an experienced teacher must "contribute significantly, where appropriate, to implementing workplace policies and practice and to promoting collective responsibility for their implementation".
Only two standards focus on having good subject and curriculum knowledge.
'Fluffy' standards
Speaking at the annual conference of the Association of School and College Leaders (ASCL) in Manchester on Friday, Mr Gove said: "Head teachers and teachers have told me in no uncertain terms that the current teachers' standards are ineffective, meaningless and muddy, fluffy concepts."
Mr Gove said teachers had nothing to fear from the review, but said it was crucial to make sure those in the classroom were "continuously improving".
"One point five percent don't make the grade - this suggests that what we have is a process that is not truly effective for ensuring that people are as skilled as they need to be."
Brian Lightman, general secretary of ASCL, welcomed the review of teaching standards.
"There are currently too many sets of standards relating to the teaching profession. This proliferation makes the standards very bureaucratic and difficult to use.
"This review is therefore to be welcomed if it leads to the production of one set of standards which can be applied to the whole profession."
But classroom teachers have criticised the move.
Christine Blower, general secretary of the National Union of Teachers said: "It is quite remarkable that despite Michael Gove and previous education secretaries saying our teachers are the best for generations, in the space of ten years we will have seen three different definitions by government of what makes a good teacher.
"It's regrettable that each new Secretary of State seems to use their position to interfere in teaching standards. This is about politics and not trusting teachers."
Ms Blower added that if the review was to gain the support of teachers, it would have to ensure there were high quality development opportunities - which would be a challenge for schools in the "present climate of cuts".
The review will be led by Sally Coates, principal of Burlington Danes Academy in London.