Oxford plans £9,000 tuition fees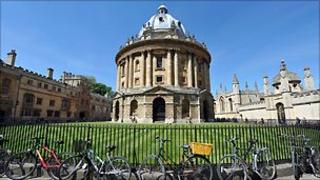 Oxford University is planning to raise tuition fees to the maximum level of £9,000 per year - balanced by a package of fee subsidies and bursaries.
There will be reduced fee levels for students from families earning less than £25,000 per year.
Means-tested bursaries will also be available - so students will not have to take jobs during term time.
Oxford is the fourth university to announce that it intends to charge the maximum fee level from 2012.
Fee freeze for poorest
Under Oxford's fee plans, students from households earning less than £16,000 per year would only pay £3,500 for their first year - with the university subsidising the rest. Subsequent years would cost £6,000 per year.
There will also be fee reductions for students from families earning up to £25,000 per year.
A sliding scale of means-tested bursaries will also be on offer - up to a household income of £42,000.
Oxford University Student Union president, David Barclay, said the plan would effectively freeze fees for students who would have been eligible for free school meals.
"Oxford has sent out a message that we will not leave a generation of bright young students confused and excluded by the new fees system," said Mr Barclay.
The university says higher fees will increase income by £10m - and it will use £7m of this for subsidies.
Vice-Chancellor Andrew Hamilton said: "These proposals show the strength of our commitment to being accessible for all, and to attracting the very brightest students, whatever their circumstances."
Funding pressure
At a debate about fees at Oxford University last month, university authorities argued that they would need to charge at least £8,000 to replace funds set to be withdrawn in higher education spending cuts.
The government, which raised the fee limit to £9,000, has warned that universities should not all seek to charge the maximum - as the funding for student finance is based on an average fees level of £7,500.
Labour's universities spokesman, Gareth Thomas, says that if universities on average charge above this level it will mean the government will need to claw back even more from university budgets.
Mr Thomas says if fees average £8,000, it will mean a shortfall of £251m - and if fees average £9,000 it will mean universities having to make cuts of £777m.
As well as the three leading Russell Group universities - Oxford, Cambridge and Imperial - Exeter from the research-intensive 1994 Group has also announced £9,000 fees.
Deputy Prime Minister Nick Clegg had claimed that Oxford and Cambridge would have to "dramatically increase" the numbers of students drawn from poorer backgrounds before they could charge £9,000 fees.
But the guidelines on access agreements from the Office for Fair Access (Offa) show that it will not act as a price regulator.
It says that universities charging £9,000 fees will have to spend £900 on protecting access for poorer students.
Cambridge University has also improved its plans for support for poorer students - now promising means-tested support of £3,500, which students can either spend to reduce tuition fees or as a cash sum in a bursary.
"This package will ensure that for those students from lower income households it is no more expensive to study at Cambridge than at other UK universities," says a university spokesperson.
Students' union president, Rahul Mansigani, welcomed the change.
"The university has finally conceded that students should have the right to choose how they spend their money," he said.