Will the higher fees gamble pay off?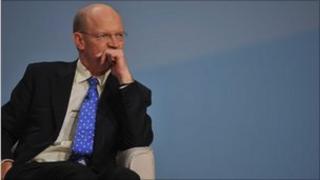 As more universities indicate they intend to charge fees of £9,000, one big question looms: can the government afford its own policy?
This might seem an odd question in the week when universities received the details of their latest funding reductions, and as we move towards a system where more of the cost of degrees will be met by students (or more accurately by graduates).
But the reality is that the new higher fees will be much more expensive for the taxpayer too if the majority of universities charge towards the top end of the £9,000 fees cap.
That is because the new loans system means the government is committed to lending students the full amount of their fee.
And since many students will never repay their loan in full - latest official estimates say 70% will not pay back all they have borrowed - that is a bill the taxpayer will have to pick up.
'Optimistic'
All the government's spending calculations are based on universities charging average fees of £7,500.
But just this week Surrey and Durham Universities joined an ever-growing list of universities that plan to charge the maximum £9,000 fee.
That calculation now looks hopelessly optimistic. And, if the average fee is higher, the Treasury will have to find more money to meet the bill.
Indeed, the spending squeeze on universities has been described by some as a 'myth'.
Although there is real pain now, by 2014 universities will overall be receiving 10% more cash than now because of the government-subsidised fee income they will be receiving.
This point was made to a gathering of university leaders this week by both David Willetts, the universities minister, and perhaps more surprisingly, by Professor Steve Smith, president of Universities UK.
The government is so uncertain about the future cost of its fees policy that it has delayed the White Paper on the future of the university system.
This has led to a fear amongst university leaders that ministers are now exploring new measures to cut the taxpayers' bill.
Indeed, David Willetts recently warned universities that if average fees rise above £7,500 the government will have to consider recouping that money by making 'offsetting reductions' in what remains of the grant they get from government.
Vice-chancellors now fear the forthcoming White Paper will move the goalposts on funding.
One option thought to be under consideration by ministers is to cut the number of students entering university.
This could be done by setting a qualifications threshold, for example requiring all university applicants to have a minimum score on the Ucas points tariff.
But there is one big problem: many university entrants come with qualifications that are not covered by the Ucas tariff.
'Cheaper options?'
Another option would be to impose a lower quota on the overall number of students that universities are allowed to recruit.
This option has the advantage of simplicity but it would be politically sensitive not only because higher fees were supposed to end the squeeze on places but because it would undermine the government's desire to create a free market in university provision.
A third cheaper option is now looking even more attractive than it did before.
This involves trying to redistribute more undergraduate students from the more costly and traditional universities to the cheaper option of studying in further education colleges.
Sources close to ministers have indicated this is an attractive idea, as it would allow expansion in the number of graduates whilst reducing unit costs.
This is why David Willetts is also looking to encourage new providers from the private sector to offer undergraduate degrees and why he is considering allowing organisations that do not teach undergraduates to be allowed to award degrees.
So the future may well involve exam boards offering degrees alongside A-levels and other qualifications.
As Mr Willetts put it: 'BTEC degrees are on their way'. FE colleges already teach around 170,000 degree-level students, usually on franchise arrangements with local universities.
Freeing FE colleges to offer degrees validated by a third-party would allow them to escape what Martin Doel, of the Association of Colleges, calls the 'feudal system' whereby at present the universities tell FE colleges how many undergraduates they can teach and at what cost.
Meanwhile the private and voluntary sector is licking its lips at the prospect of offering cheaper or fast-track degrees.
Just this week the College of Law (which offers post-graduate training in law) announced plans for a two-year undergraduate law degree.
Students on this course would not have access to government fee loans (the college is entering an arrangement with the banks instead), making a big saving for the Treasury.
'Non-traditional study'
Other providers - such as BPP University College, a for-profit company that offers post-graduate law and accountancy courses - are also watching the fees market closely before deciding whether to compete on undergraduate courses.
Its chief executive, Carl Lygo, looks to the US where, he says, only 25% of higher education students are on traditional campus-based universities.
He predicts that in the UK there will be "much more non-traditional study". So, in one way or another, the forthcoming White Paper may well, in effect, recreate the old university-polytechnic divide.
On one side will be the traditional, campus-based universities charging close to £9,000 and, on the other, will be FE colleges and new degree providers offering courses at less than £6,000 a year.
For some this raises issues of equality and access. Aaron Porter, president of the National Union of Students, fears it would lead to students from poorer homes increasingly studying close to home or away from traditional university campuses.
As Porter points out, much will depend on the White Paper and Parliament's response to it, since all that has happened so far is that Parliament has agreed to lift the fees cap.
He says the government has embarked on "the biggest gamble" the university system has ever known. Until the White Paper is published, it remains unclear where that "gamble" is taking us.
Mike Baker is a freelance education journalist and broadcaster